Patient safety during the coronavirus pandemic
We have many ways we are working to keep our patients and community safe and protected during the novel coronavirus (COVID-19) pandemic. To learn more, visit our coronavirus information page.
Our standing commitment to overall quality and safety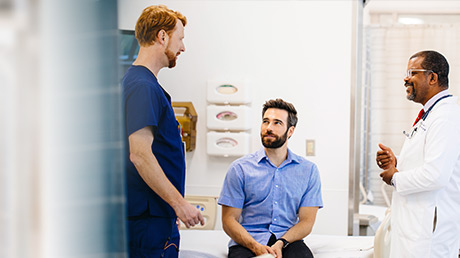 At UC Davis Medical Center we make a special commitment to provide safe, high-quality care for all patients. Our professional staff are at the core of our rigorous dedication to quality, and are critical to ensuring the safe care and satisfaction of our patients.
Our staff routinely earn recognitions for quality, safety and patient satisfaction even as they treat and research some of today's most complex health conditions. Our team-care approach, which brings faculty physicians together with nurses, researchers, residents and students, technicians and staff, is just one of the many benefits we are able to offer as an academic medical center.
Maximizing our culture of safety is a collaborative effort. All staff take part in planning patient-safety measures for their respective areas and attend annual training. In addition, each clinical department maintains a quality committee that reviews individual cases for issues and identifies opportunities to improve performance.
Selected highlights from our comprehensive quality and safety measures include:
Use of surgical checklists that help ensure all members of the operating team communicate more effectively with each other and with patients, before, during, and after an operation.
Strict adherence to specific safety protocols for central-line catheters, the special IVs that are often used when treating very sick patients.
Assessment of patients at risk for self-injury and falls, with checks upon admission as well as at each change of nursing shifts.
Follow-up phone calls with our most vulnerable patients to review discharge instructions and confirm plans for follow-up care – an approach that helps reduce readmissions.
The Speak Up program, which formally encourages patients and families to be involved and empowered in their care, and suggests approaches for doing so.
The Code Help program, a special telephone hotline that inpatients and families can use in the unlikely event of an emergency during the course of their care. The program is a voluntary, proactive layer of safety introduced to help prevent negative outcomes before they occur.
Review of emerging safety findings from medical journals and institutions, helping to identify and implement best practices.
Regular self-monitoring of our work and progress on patient quality and safety, including reporting to other academic medical centers to compare performance and share best practices.
Participation with other UC medical centers in The Joint Commission's patient-safety program, which focuses on factors such as hand hygiene. The Joint Commission accredits hospitals and is widely considered the nation's predominant health standards-setting body.
Continuous monitoring and review of every case to identify and eliminate all possible causes of hospital-acquired conditions – with the goal of preventing them entirely.
Formal education for new doctors about proven quality and safety practices (including many practices pioneered at medical schools and teaching hospitals) through their regular curricula and other avenues.
Voluntary public reporting initiatives
UC Davis Medical Center voluntarily participates in a number of public reporting initiatives and efforts that focus on quality of care and patient safety. Some select highlights:
In data related to eight "timely and effective care" categories — including sepsis care, cataract surgery, colonoscopy, heart attack care, emergency department care, preventive care, pregnancy & delivery care, and use of medical imaging — that appeared on the federal Care Compare (formerly Hospital Compare) website as of March 2022, UC Davis matched or exceeded both state and national hospitals in five of nine measures, including measures related to: colonoscopy followup, employee flu vaccinations, obstetric delivery timing, back pain imaging and cardiac imaging. The hospital exceeded the federal score for sepsis care, and narrowly missed tying the state score (one percentage point). In four other measures, results were not available or the hospital had too few patients or cases to report.

In 15 measures related to complications and deaths, the hospital was no different than the national rate or better than the national rate in 14 measures. In scores related to unplanned hospital visits – when patients return to the hospital for unplanned care, soon after visiting the hospital or having an outpatient procedure – UC Davis Medical Center scores were average (generally no different than the national rate) or better on 12 of 14 measures.

The Care Compare website also contains data on a wide range of additional quality and safety measures, such as unplanned visits, psychiatric unit services, and payment & value of care.
The Hospital Consumer Assessment of Healthcare Providers and Systems initiative or HCAHPS measures patients' perspectives on hospital care. In results that appeared on the Care Compare (formerly Hospital Compare) website as of March 2022, the medical center matched or exceeded both state and federal averages in four of 10 categories: whether patients were given info about what to do during their recovery at home; whether patients strongly agreed that they understood their care when they left the hospital; whether patients gave their hospital a rating of 9 or 10 on a scale of 0 (lowest) to 10 (highest); and whether they would recommend the hospital to others. 77 percent of UC Davis patients said they would definitely recommend the hospital.

UC Davis Medical Center matched or exceeded state averages in three more categories: whether nurses always communicated well, whether doctors always communicated well, and whether staff always explained about medicines before giving them. The patient summary star rating was three out of five stars.
UC Davis Medical Center also participates in Cal Hospital Compare, a statewide rating system supported by the California Healthcare Foundation. This website typically includes some measures from the federal Care Compare (formerly Hospital Compare) site and incorporates other measures. In data available on the website as of March 2022, the medical center achieved ratings of average or better in approximately 45 of 53 ratings measures compared to state averages. In seven other areas, the hospital was not rated. The website includes case volume ratings for some types of procedures as well.