Family caregivers who provide complex care face more physical and mental health challenges (video)
UC Davis nursing school coauthors state report with national implications
(SACRAMENTO)
Family caregivers in California who tap into a statewide network of support organizations are at higher risk of mental and physical health decline than the general population of caregivers.
Those are findings from a new report from the Family Caregiving Institute at the Betty Irene Moore School of Nursing at UC Davis working in conjunction with the Family Caregiver Alliance.
"Our evaluation shows that these resource centers serve clients at a higher risk when compared to the general population of caregivers," said Janice F. Bell, associate dean for research at the School of Nursing and co-principal investigator. "They are engaged in more intense care, longer hours and increased responsibilities. They also report more adverse physical and mental health effects from their caregiving role, including isolation and loneliness."
About one in five Americans provides care to a family member. The complexity and intensity of caregiving for older adults and people with disabilities is increasing, as the population ages and more individuals are living longer with physical, cognitive and mental health challenges.
Statewide support for nearly 40 years
Recognizing a need to support these caregivers and the vital role they play, California established the California Caregiver Resource Centers (CRC) system in 1984. Today, 11 nonprofit centers make up a network of services available to all Californians.
"To have someone see me and say, 'Hey there's actually help for you too,' I thought, 'Wow, I've got to check this place out,' said Simone Nazzal, a CRC client. "I was really pleased to be connected with a family consultant who plugged me into the exact services that I needed in that moment to maintain my sanity and to continue doing this for my mom."
In 2019 — well before the pandemic — the California Department of Health Care Services invested $30 million in a project, "Picking Up the Pace of Change: Scaling Services for a Changing Caregiver Profile," to expand and improve family caregiver services and enhance CRC information technology services.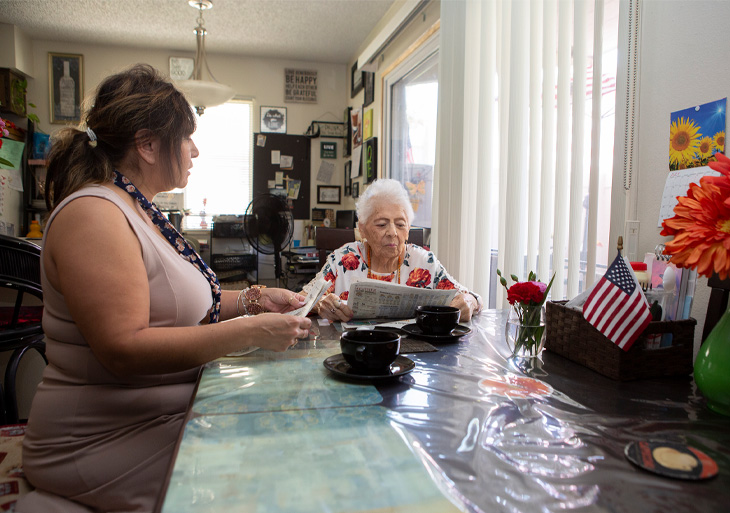 During the second year of the project, 16,000 caregivers sought assistance. The data showed that 90% of them were providing complex and intense care.
"I was so scared, and I felt so alone because I was alone in caring for Gram and alone in making these decisions," said client Teresa Gordon. "I felt like someone finally heard me. And I felt like someone understands what I'm going through."
Caregivers as diverse as California
The researchers also found that about half of caregivers who use CRC services reflect diverse groups with important differences in their caregiving experiences.
"This study is one of the first in the nation that we're aware of with this size and this diversity, consistent with the diversity of California along many dimensions. It's humbling to see the findings of the intensity of care in our sample. In general, Black, Hispanic and Native American caregivers spend more time providing care with fewer resources," explained Heather M. Young, co-principal investigator and institute associate director for strategic partnerships. "The CRCs serve diverse communities, and the information we now have can help them to prioritize outreach and service for those most in need."
Young said COVID-19 increased that strain and stress, including changes in health, financial struggles, food and housing insecurity, alterations in employment demands, social distancing and home schooling for children.
Other notable findings of those surveyed include:
72.9% spent more than 40 hours per week providing care
35% reported worsening health over the past year
35% were lonely
At a time when needs for support and services increased, availability in many communities waned. Some services, such as adult day care programs and in-home paid caregiving, were suspended entirely.
Interactive platform offers tailored care, better data
Over the past year, the project team deployed an interactive platform, CareNav™ to promote uniform quality and availability of core services statewide. The platform launched amid the pandemic, which, proved beneficial.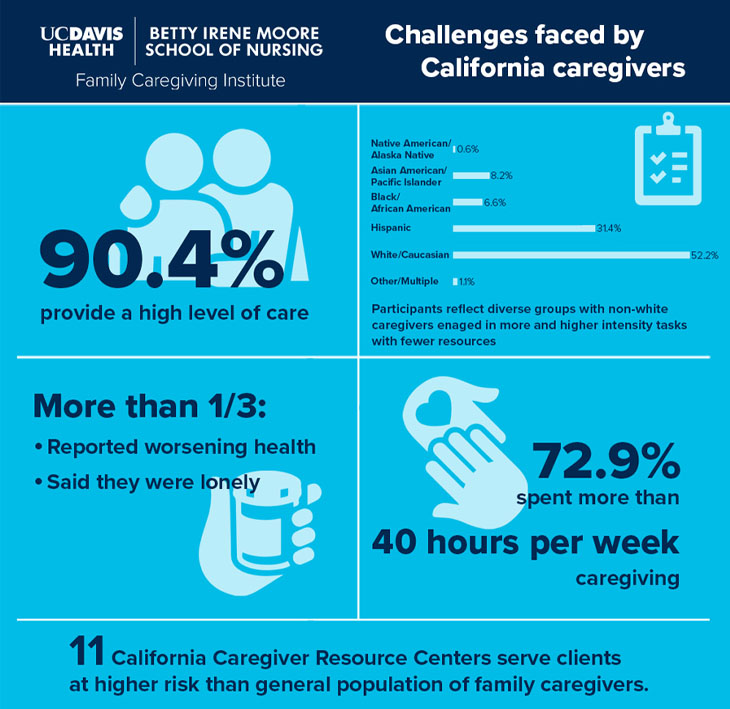 "While challenging to deploy the online platform during a pandemic, we found it was a program that really met the needs and enabled many caregivers to get support and services they would not have been able to access with social distancing. CRC staff could reach caregivers and deliver the services they needed. It could not have been more well timed," Young said.
CareNav™ includes a caregiver assessment, a record of CRC services provided, consumer information, and the capacity to develop individualized care plans and tailored resources, securely. All 11 sites use a common assessment tool, allowing researchers to combine data and better understand caregivers as a group, rather than having different measures at each of the sites.
"We needed to determine if these services are helpful and meet the needs of caregiver clients," Bell said. "Our research determined yes to both — 81.7% of caregivers surveyed reported very high satisfaction and 10.7% were somewhat satisfied. The vast majority would recommend the CRC to others."
The team concluded that CareNavTM offers a solid platform to support adaptation of the CRC service model that is tailored to regional needs and can be used by other agencies in the future. All 11 CRCs are now using CareNavTM. The platform has value outside of the CRC network to support caregiver assessment and support in other settings as well.
Meeting needs, mapping out next steps
"The research shows that the CRCs are meeting vital caregiver needs across California," said Kathy Kelly, executive director of the Family Caregiver Alliance. "We must next determine what methods work best for greater outreach to communities underserved by the centers, better ways to reach clients managing dementia and complex conditions who are not aware of these services, and how to identify those caregivers at greatest risk for a change in situation or in their own health status."
The research team said these findings can lead to better tailored services in the future.
"In one of our next studies, we hope to look at the risk profile of the caregivers that are served by the CRCs and examine whether we can identify risk factors for poor outcomes and intervene more quickly," Bell said. "I think this is really an exciting time to be involved in caregiving research overall."
In the coming year, with funding from Archstone Foundation, the team will also examine ways to identify and better support caregivers engaged in the most complex care and at highest risk for poor health outcomes. Rounding out the investigative team are Jennifer Mongoven, Tina Kilaberia, Benjamin Link and Robin Whitney.
To hear more from lead researchers Bell and Young, watch this video. For additional perspective from the Family Caregiver Alliance's Kelly, click here.