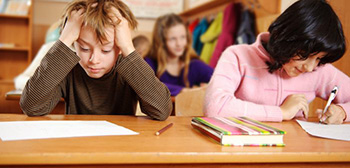 It is not uncommon for children to struggle with school. This could occur with one particular subject or school in general. There are many possible reasons for children to have trouble learning. In this episode, we discuss when parents need to be concerned about their children's academic progress, how to get the best evaluation for their child, different services that may be available to help, and common underlying disorders that may cause school struggles, such as learning disorders. Is repeating a grade a good idea? —we have that covered too.
This episode written by Dr. Dean Blumberg and Dr. Lena van der List.
Supplemental material:
School Struggles music and lyrics by Dean Blumberg, performed by Dean Blumberg and Lena Rothstein, music performance coach Tori Steeley, music therapist at UC Davis Child Life and Creative Arts Therapy Department.
Photo from School Mum