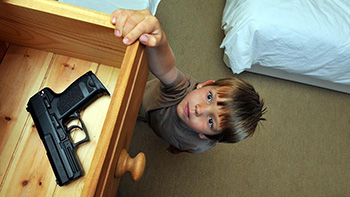 Firearm safety remains a pressing issue as everyday 78 children, teens, and young adults are injured or killed by guns in the United States. Regardless if we choose to have or not have firearms in our homes, there are steps we can all take as parents to prevent these tragedies. In this episode, we discuss the impact of firearm safety and gun violence on children, best storage and use methods, and how to add firearm safety questions to your playdate checklist.
This episode written by Drs. Helaine St. Amant, Jason Lau, Lena van der List and Dean Blumberg, pediatricians at UC Davis Children's Hospital.
We thank Dr. Amy Barnhorst, a psychiatrist and vice chair for community mental health at UC Davis Medical Center and the director of the BulletPoints Project at the University of California Firearm Violence Research Center for reviewing this episode, although Drs. Jason and Helaine take responsibility for any errors or misinformation.
Supplemental material:
Photo from C.S. Mott Children's Hospital