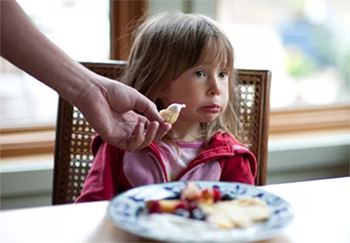 Toddlers and preschoolers often go through a picky eating phase. Although most children grow out of it, picky eating may be associated with adverse consequences for children's health, and it's important for them to have a healthy and nutritious diet to optimize growth and development. In this episode, we discuss the origins of picky eating and strategies to deal with it. We explore positive approaches such as sharing meals, offering healthy choices, making food fun, involving children in food preparation and more. We also discuss strategies that are not likely to work including punishment and bribes. Hungry for more? Then listen to this episode!
This episode written by Dr. Mary Beth Steinfeld, Dr. Dean Blumberg and Dr. Lena Rothstein.
We thank Dr. Mary Beth Steinfeld, developmental-behavioral pediatrician at the MIND Institute at UC Davis Children's Hospital, for joining us for this episode.
Supplemental material:
Learning To Love New Foods music and lyrics by Dean Blumberg, performed by Dean Blumberg and Lena Rothstein, music performance coach Tori Steeley music therapist at UC Davis Child Life and Creative Arts Therapy Department.
Photo from Verywell Health