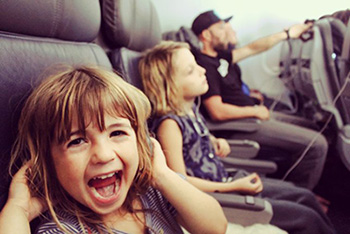 Traveling with children can be stressful, but we have some ideas to make it easier. We continue our discussion from our last episode (Part 1), and start off with how to make things easier at the airport with stroller advice or wearing your baby. Parents can also make the flight more comfortable for children, including helping them avoid ear pain that is often associated with air pressure changes during flights. Many parents worry about their baby crying uncontrollably on the plane. There are also challenges with accommodations, staying with extended family, renting a house or apartment, or hotel room–what works best for the family? We have advice on this, on how to plan activities with children, what to do when your child gets sick when out of town, and the challenges of adjusting to new foods and new time zones. Plus we'll mention travelling by train or car. Have a great trip with your kids!
This episode written by Dr. Dean Blumberg and Dr. Lena Rothstein.
We thank Amy Zide from the UC Davis Child Life and Creative Arts Therapy Department at UC Davis Children's Hospital for reviewing this topic, although Drs. Dean and Lena take responsibility for any errors or misinformation.
Supplemental material:
Photo from Metro news