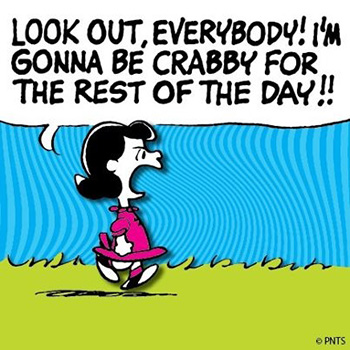 I think that spring can be a kind of cranky, crabby time of year. That may seem strange since the weather gets warmer, the days are brighter and longer, and flowers and trees are in bloom – but it is also budget time which includes performance reviews and lots of hopeful expectations for salary increases, new resources, and new programs. At this time of year, administrators (including department chairs) are trying to re-allocate funding to squeeze in something for as many people and programs as possible — and this means making the tough decisions of who to say no to, plus the inevitable difficult conversations and crabbiness that follows on both sides. And since lots of folks save their vacation time for summer, I think that there are more employees feeling stressed and tired at this time of year. Though I always feel try to be a glass-half-full kind of a gal, I admit that I find myself getting crabby in the spring time, too.
Because of the crankiness in the air, I was not particularly surprised to learn that employees spend a substantial amount of their time complaining while at work. In the May issue of Harvard Business Review, there was a quote from an interview with executive Marshall Goldsmith who had studied complaining in the workplace. He said "a majority of employees spend 10 or more hours per month complaining — or listening to others complain — about their bosses or upper management. Even more amazing, almost a third spend 20 hours or more per month doing so." And as the HBR article notes, these hours don't include complaining about co-workers which is very common, too. That's a lot of time and energy that goes into complaining.
My take on the seasonal complaining and crankiness here at UC Davis Health is that there is actually a real positive side this year — faculty, staff, and others seem especially eager to articulate priorities for change to our new health system leaders. Our new dean for the School of Medicine, Allison Brashear, is arriving at the end of July, as will the new dean for the Betty Irene Moore School of Nursing, Stephen Cavanaugh, rounding out the senior leadership team for our new Vice Chancellor of Human Health Sciences and CEO David Lubarsky who has been with us for only one year. Though the budget season is always the time to think critically about the past year and realign priorities and dollars, the need to on-board and educate our energetic new leaders about our needs and dreams makes this spring the perfect time to raise awareness of concerns, complaints, imperfections, and the things that make us crabby.
But despite our positive intent, I also think it is a good time to think twice about our expectations for new leaders. The white knight syndrome is a phenomenon in which a new leader is expected to be a hero who rides in from out of town to rescue the organization from all of its problems. Is this realistic or fair? We could end up even crankier when we discover that our new leaders are not superheroes who can easily make everything perfect.
So in my view, the more appropriate expectation is to be our own white knight. Rather than expect a rescuer, we need to take care of ourselves and shape our own future to the best extent that we can. Crabbiness is often about feeling out of control – so if we are feeling crabby, we need to think more about how we can better control – or at least influence – our own future.
In our department, one area in which we are actively working to shape a positive future is in our proposal for a new Center for Diagnostic Innovation. Diagnostics is the heart of our specialty, and creating new tests, and improving existing tests as well as the pre- and post-analytic phases of the test cycle is what we are all about. The concept grew out of the collaborative seed grant program led by our department and funded by a philanthropic gift in addition to contributions from many other departments and units. This program supported many creative diagnostic projects, including breath analysis for opioids, new assays to diagnose cardiac recovery after myocardial infarction and to evaluate cerebrospinal fluids for the presence of fistulae, several artificial intelligence projects, and implementation of novel technology including both Raman spectroscopy and biophotonic methods to evaluate donor kidney quality. These are just a few examples. But creativity, research, and development should be something that an academic department supports all the time – not just on special occasions with a special gift. Diagnostics is foundational service to all of health care – a worthy area of innovation that "raises the boat" for all. We therefore want to continue new test development, as well as help take projects that were jump-started through seed grants further down the development pathway into clinical validation, eventually implementing the most worthy new tests for patient care as lab-developed tests.
We'd also like to be innovative in other aspects of testing, including testing outside our lab walls. As lab professionals and testing experts, we should explore and support testing in home care settings and pharmacies, and all the places where health care is increasingly being delivered. This includes creating innovative new quality programs to be sure testing happens correctly and results are accurate, as well as enabling better understanding and interpretation of our results by serving as a participant in decision-making for management, including how to appropriately monitor with follow-up tests. We have a great track record as innovators, early adopters, partners, and an incredible talent pool to make this center come alive. There are lots of exciting opportunities for innovation that we'd love to explore.
To pursue these dreams, we have a series of external advisors visiting us over the next few weeks. We are looking to their experience and their fresh view to provide guidance that will further shape our ideas for a center and help us advocate for resources and support to make this vision come alive, allowing us to truly be the department and lab of the future. And since we have new leadership, new energy and renewed ambition in our midst who have encouraged a plan for this center, I remain optimistic, despite my seasonal crabbiness. It is not always love at first sight when it comes to a big idea (or the crabby people behind them) – but hopefully affinity for the idea can grow because we have big ambitions and a noble intent that we didn't let our frustrations derail.
Acknowledgement: Cartoon from Charles Schulz's Peanuts.