Every year, I look forward to medical school graduation — but this year, thanks to COVID-19 restrictions, I wasn't so sure. I couldn't quite wrap my head around a "virtual" graduation. There would be no grand procession of faculty and grads in their academic regalia led by the bagpipe and drum corps which always brings tears to my eyes. I knew I'd miss seeing our grads walk across the stage to receive their hood and diploma with their parents or partner — a uniquely UC Davis touch that shares the pride of the families, the diversity of our students, and recognizes the importance of loved ones in supporting a student into and through medical school.
Amazingly, the virtual experience was special, meaningful, and incredibly personal. Each student appeared live on-screen in their home and said a few words of thanks with family, friends, balloons and banners in the background. The inspiring Physicians Oath was read in 13 different languages and celebrated the universal message of committing oneself to care for others. In a sad and lonely world of COVID-induced social distancing, I felt renewed to see these young and excited new physicians head out into their internships and prepare to save us all.
I'm glad that our grads — and all of us — got to enjoy this uplifting milestone. But as someone who has studied and published on generational differences (1-4), I can't help but worry about this new generation. Their lives as physicians – and as adults in general — are being shaped by the COVID-19 pandemic as well as by the recent horrific acts of racism and social unrest that followed. I don't think any of us has felt prepared for the present nor the future that is unfolding.
According to generational scholars Strauss and Howe (5), generations are shaped and defined by key experiences at their "coming of age" or young adulthood, the life stage of our young grads. Strauss and Howe purport that generations are not completely unique – there is a cyclical pattern of four generational archetypes defined by a repeating pattern of history spanning 100 years (6). These generations appear in the attached table: the rows describe each generation's unique characteristics as they move through their life stages. Reading the table on the diagonal illustrates the generations present in any given era and their life-stage and unique characteristics.
Strauss and Howe's cyclical model (5) starts with a Hero generation, like the GI Generation (b. 1901-1925) who saved the Western world from the dictatorships of WWII and were forever shaped by their wartime experiences. The Silent Generation (b. 1926-1942) came to young adulthood during the post-war recovery. They brought back stability and rebuilt our nation as hard-working traditionalists. My generation, the Baby Boomers (b 1943-1960), were defined by the spiritual awakening of social movements (anti-war, civil rights, "women's lib"), raising consciousness for all who followed. Generation X (b, 1961-1981) is a post-awakening generation of independent "latchkey kids" who were defined by the new norm of divorce, single parent families, ad hoc daycare, and lots of alone time on home computers. With the Millennials (b. 1982-2002), we are cycling back to another hero generation in a time of crisis. America's most diverse generation, Millennials are the first to grow up with cell phones and computers, and to experience homeland terrorism. They are expected to rise to be the crisis heroes through their multiculturalism, tech-savviness, passion, and optimism.
I believe that we will soon experience a generational shift in roles, ie. a shift in the diagonal in the attached table. Millennials will no longer the youngest in our academic health center workplace – they will soon be shifting to mid-career and mid-life. Generation Z (b. 2003-2024) – perhaps soon to be called Generation COVID – will steadily grow as young adult learners in our classes of pre-meds, medical students, residents, grad students, and clinical lab science students. The oldest are now entering their formative years, inevitably influenced by the COVID-19 pandemic, the revival of racial tensions, and the unprecedented experience of uncertainty and fear which has prompted masking and sheltering, loss of social interaction, interruption of education, and so much more. This newest generation has never known a world without terrorism and is now experiencing the added stress of contagion and racism. Gen Z/COVID has even been referred to as "the most anxious generation" since substantial numbers have mental health challenges.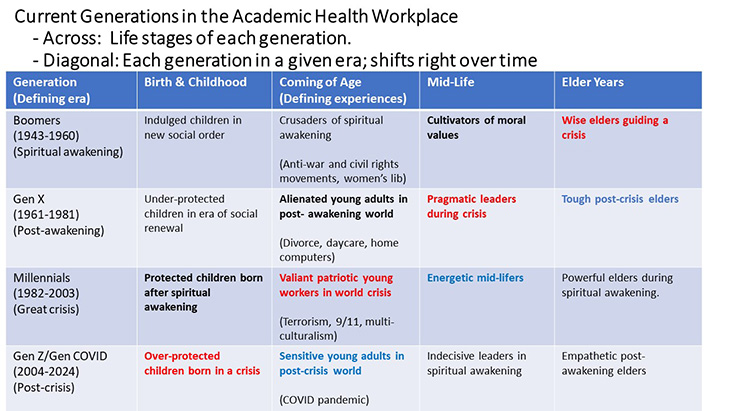 As educators, we play a major role in shaping our learners' response to the unusual experiences that will define them. We have a special responsibility to help each generation of learner navigate the stress, cope with anxiety, learn effectively, and grow into their new professional identities so that they can serve the health of our communities in the unimaginable circumstances that inevitably lie ahead.
How will we – and should we — fulfill our roles as teachers, mentors and role models? Our own generational experiences influence how we experience our life stages including this generational shift; these are also the talents we bring as educators:
As Millennials step out of young adulthood and into mid-career roles, they will relate most closely to the those coming up behind them. By approaching challenges with their characteristic energy, optimism, and idealism, they set a heroic example that should inspire Gen Z/COVID following immediately behind them. As our country's most diverse generation, we should all capitalize on Millennials' cultural competence and grow every generation's skillset in this area.
Gen Xers have been famous for finding creative workarounds in their young adulthood – this quality created many pioneers in new industries, like tech. In mid-career, many GenXers have felt frustrated that they have not yet dassume traditional leadership roles held by Boomers who postponed retirement. In this new generational shift, Gen Xers move into senior leadership. Their well-known pragmatism, toughness, and ability to think out of the box are strengths to leverage and will make them excellent leaders, teachers, and mentors in a time of crisis.
The Boomers are retiring off the generational diagnonal, but many will be still be around as wise elders. As senior statemen and advisors, the Boomers will ensure that a spirit of social justice and reform continues to inform and shape the educational experiences of our newest generation.
The Association of American Medical Colleges (AAMC) recently highlighted the virtual graduation ceremonies at some of our nation's medical schools, including our own. The AAMC article shared a quote from the Dean at the University of South Dakota, Mary Nettleman: who remarked to her graduates "Times of crisis cause us to call upon our inner reserves and require us to demonstrate our character." Clearly, this message is not just for new physicians and learners. All of us have had our characters shaped by our unique experiences: the shared experiences of our generation and our unique experiences as individuals. Let's remember to pull these forward as we teach and train, as well as to care for our patients and to guide us in our research. We need all of our tools in these challenging times to bring us to the brighter day that we can create together.
References:
Howell LP, Bonham AC, Servis G. Multigenerational challenges in academic medicine: UCDavis' responses. Acad Med 2005; 80:527-532.
Howell LP, Joad J, Callahan E, Servis G, Bonham AC. Generational forecasting in academicmedicine: a unique method for planning for success in the next two decades. Acad Med 2009; 84:985-993.
Howell LP, Beckett LA, Nettiksimmons J, Villablanca A. Generational and gender perspectives toward career flexibility: an approach to ensuring the faculty workforce of the future. AJM 2012, 125:719-728.
Howell LP, Beckett LA, Villablanca AC. Ideal worker and academic professional identity: perspectives from a career flexibility educational intervention, Am J Med 2017; 130: 1117-1125.
Strauss W, Howe N. The Fourth Turning. New York: Broadway Books, 1997.
Howe N, Strauss W. The Next Twenty Years: How Customer and Workforce Will Evolve. Harv Bus Rev 2007; 85:41-52.