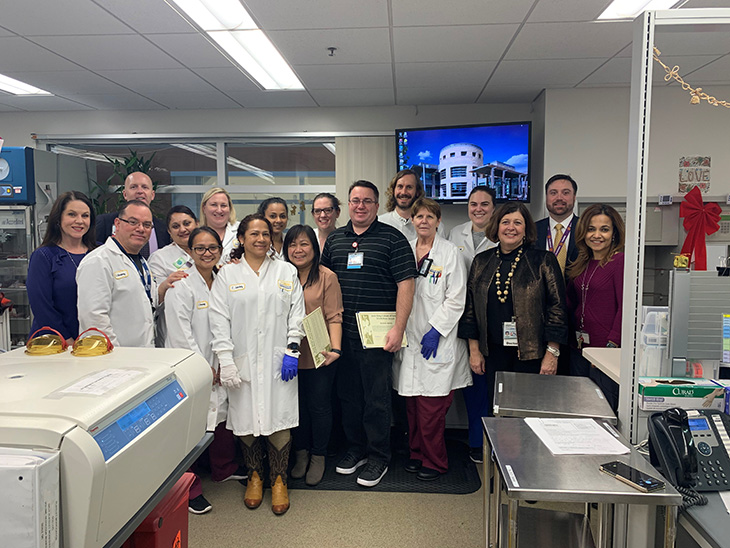 We are starting the new year on a really bright note. At the very end of 2019, we received some lovely recognitions – one big award, and several other small but powerful personal notes of thanks. Each of these acknowledged members of our pathology and laboratory medicine team who went the extra mile to provide high quality care to our patients.
The big award was the Josie King Foundation Award which recognized our Blood Bank team. The nurses in the Neonatal Intensive Care Unit initiated the nomination and highlighted clinical lab scientist Agnes Olario who came into work on her day off to care for a sick neonate who needed reconstituted whole blood. The award nomination noted that Agnes and the Blood Bank team went "above and beyond" to provide this blood product to the patient in 3 hours compared to the 9 hours that would have been necessary to obtain this from our vendor, and they credited the entire team's work in the positive outcome for this tiny patient. Agnes and the Blood Bank team clearly exemplified the Josie King Foundation's mission of recognizing positive change that promotes a culture of patient safety, including listening to family, speaking up, improving communication and teamwork, looking for good catches, and teamwork.
Two personal notes of thanks came to our faculty and housestaff from one of our colleagues in pulmonology who generously took the time to share his gratitude for the efforts by surgical pathology and cytology efforts to ensure timely patient care over the holidays:

"I wanted to thank you for paging me and alerting me to this patient's diagnosis of lymphoma and to thank you for establishing the diagnosis based on the relatively small bronchoscopic biopsies….you let me know today, less than two working days during what I am sure is a busy Holiday time and on, I imagine, a difficult case. I was able to let him know his diagnosis before the Holidays to at least relieve some anxiety. I cannot tell you how impressed I am and grateful I am for your very thoughtful care."
"I cannot tell you how impressed I am and how pleased I am that you read the cytology on Mr. ___ and posted it on a Sunday morning! We were trying to decide whether or not to put in an indwelling pleural catheter and really needed to know before deciding. Because you posted the results we were able to place the catheter this morning and he will be able go home before Christmas. You have had a huge positive impact on this gentleman and his family's life. He probably does not have a lot of time left, and it is so important for him to spend time at home, especially during the holidays."

One of our own Pathology faculty made a point of sending me a note acknowledging a department colleague who went "way out of her way for patient care" by triaging a scant biopsy for molecular testing, ensuring that slides got cut rapidly, and staying late during the holidays to ensure that the slides got to their destination. This faculty member emphasized how impressed he was the dedication of his colleague.
There's lots to be proud of in these stories – the personal commitment to a job well-done, the dedication to ensuring that our patients receive the best care possible, and the support shown to each other by taking the time to publicly acknowledge colleagues for their outstanding effort.
What I really like best is the team spirit that these stories share – it takes a strong team to provide high-quality laboratory services. In fact, in my fall presentation to the medical center's Quality Hub, I drew the analogy that a high-performing lab services is a lot like an Olympic team sport. Last April, I enjoyed visiting the Olympic Museum in Lausanne, Switzerland which is the home of the International Olympic Committee. I was struck that the Olympic motto of "Citius, Altius, Fortius" (Higher, Faster, Stronger) was just as applicable to the clinical lab since this is what we are continually asked to do. A plaque at the Olympic Museum noted that this motto is "an expression of excellence….It is about giving one's best, improving and striving on a daily basis, both in the stadium and in life." I believe that striving for the best is what we do in our laboratory and in our lives.
2020 is an Olympic year – the summer games will be held in Tokyo at the end of July. This is a great chance for us all to adopt the Olympic spirit. Just as Team USA is putting together their Olympic team, we have lots of new teammates joining us this year, too. I'm so pleased that the hospital has approved many new technical positions for the lab, including several much-needed positions in anatomic pathology, so we will be looking for great teammates. We are recruiting several new faculty to the team, too, including clinical and research positions. Clearly, we have lots to look forward to as our team grows. As the father of the modern Olympic games, Pierre Coubertin once said "May joy and good fellowship reign, and in this manner, may the Olympic Torch pursue its way through ages…for the good of a humanity, always more enthusiastic, more courageous and more pure."
Happy 2020!