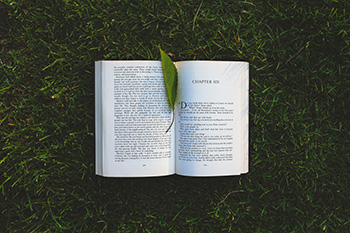 Summer is back – and so is the department's summer book list!! I first shared recommended reads from department members back in 2016 — after all, everyone is looking for a good book to take on vacation at this time of year – and it seems like a good idea to do it again. The Washington Post shares their favorite books, as does the New York Times, and even Bill Gates puts out a list of his favorite seasonal reads. But who knows what you might like best than the folks in your own specialty or discipline??
Here's a few recommended titles that I gathered from a few of our colleagues – fiction and non-fiction. Just like the first list in 2016, I was once again struck by how many suggestions are related to science, medicine, and creating a better workplace. To me, this shows that we don't just read to escape, we read to explore different facets of our careers and to gain new insights on our work lives, and shows our love for what we do, enriching us personally and professionally. Post a note about what you think of these recommendations – or add some your own suggestions for more good reading!!
Lydia Howell, Chair of Pathology and Laboratory Medicine (me!):

I have two books to recommend. The first is historical fiction (my favorite genre), The Heart Specialist by Claire Holden Rothman which is loosely based on the life of the Maude Abbott, MD, famous for her landmark studies of congenital heart disease and one of Canada's first female physicians. Dr. Abbott was also the curator of McGill University's Pathological Museum which housed many of the congenital cardiac anomalies that she studied. Like Dr. Abbott, the main character in this book is criticized for her non-ladylike interests and emerges as a pioneer for women in medicine. I also enjoyed the reminder of the importance of medical museums in the history of medical education, a tradition important to our own department since our founding chair Robert Stowell had been the director of the Armed Forces Institute of Pathology, a world-renown medical museum.

My second recommendation is a book that I'm reading now, The Break-through: Immunotherapy and the Race to Cure Cancer by Charles Graeber. It may be hard to believe that a book about immunotherapy could be an exciting page-turner, but it actually is. The book tells the story of perseverance in the face of set-backs, of hypotheses that were discounted and ignored because the mainstream beliefs, and emphasizes the value of hard work as well as dedication to the scientific process. There are also many personal stories from brave but desperate cancer patients who were among the first to be treated with immunotherapy, and their gift to us all through their participation in clinical trials. This book is also pertinent to our own department since we are currently recruiting for a faculty scientist with a focus in immuno-oncology to serve as our Stowell Chair in Experimental Pathology to support UC Davis' growing immunotherapy programs.

Jeff Gregg MD, Senior Director of Clinical Pathology and Director of Microbiology: Bad Blood: Secrets and Lies in a Silicon Valley Start-Up by John Carreyou was the first book that immediately came to Jeff's mind – and was also suggested by several others. This is the story of Stanford drop-out Elizabeth Holmes and her now defunct start-up Theranos, that she founded on the premise of performing many diagnostic lab tests on just a drop of blood. Though many pathologists and laboratorians were skeptical from the start, her charisma captured the support of US armed forces generals, a former Secretary of State, sophisticated Silicon Valley investors, and even Walgreens who planned to install her devices in their stores. The book reveals short-cuts and deceptions in clinical validation and during CAP inspections that will give laboratorians – and patients – chills, and reminds us all about the dangers of ambition and the importance of ethical behavior in science. I had the pleasure of having lunch with the author, the Wall Street Journal's John Carreyou a few years ago when the Association of Pathology Chair awarded him their "Friends of Pathology Award" – he is a truth-seeker and is truly a friend to our profession. And by the way, Bad Blood will soon be a movie starring Jennifer Lawrence.
John Paul Graff DO, Assistant Professor and Associate Director of Clinical Informatics Fellowship Program: JP recommends Glass Cage: Automation and Us by Nicholas Carr, a former executive editor at Harvard Business Review. JP says it's a great read about how technology and artificial intelligence are changing our brains and learning styles, and is also fairly light reading, despite the technical topic. The New York Times called this essential reading for the modern age. The book uses the electronic medical record as an example of how technology can have the unintended consequences, in this case by interfering with the doctor-patient relationship and creating a source of stress and burnout among providers. As technology and automation become more prevalent in our personal and professional lives, this is clearly a book we can relate to.
Shawn Jackson, Administrative Supervisor: Shawn just finished reading the sci-fi novel The Power by Naomi Alderman which chronicles a spontaneous "mutation" that first emerges in teenage girls and later in the entire female population, allowing them to electrocute anything they touch. These powers trigger a myriad of defensive actions by individuals and government authorities as they try to manage a population suddenly empowered with weaponized bodies. As women exercise this new power, often in violent and destructive ways, personal, organizational and national hierarchies are turned upside down, and history is re-written. Shawn says she can't imagine that women with these powers would choose the dark paths that Alderman constructs, but she found it interesting to following the characters and their decision-making and evolution as they lose or gain, depending on their gender. Though set in the future, Shawn notes that the diverse and intertwined plotlines are easy to allegorize with many of today's current events. The New York Times chose this book as one of their 10 Best Books for 2017, and the Washington Post called it "extraordinary."
Iyda Antony CLS MBA, Laboratory Director: Iyda says she is currently reading H3 Leadership by Brad Lomenick which she says is a great read around how to be humble while staying hungry and remembering to hustle. It starts a prompt to answer the question "WHO ARE YOU". Through habits of self-discovery, openness, meekness, conviction, faith and assignment, the reader is encouraged to live out their calling in life. The hunger within us helps answer the question "WHERE ARE YOU GOING" and this takes habit of ambition, curiosity, passion, innovation, inspiration and bravery. The reader is encouraged to continue learning, but also to love the learning while taking calculated risks. Lastly, hustle begs the question "HOW WILL YOU GET THERE". This requires a habit of excellence, stick-with-it-ness, execution, team building, partnership, margin, generosity and succession. Iyda says this is a great reminder of the importance of teamwork, and how together we can leave things better than we found it. She highly recommends this book because we can all feel deflated in our work life from time to time, and we need to reinvigorate our purpose and passion.
Kelly Due, Executive Assistant to the Chair: Speaking of humility in the workplace, Kelly shared this link on How to Infuse your Company Culture with Humility which was in the most recent quarterly e-newsletter to UC Davis supervisor and managers. Kelly said she really liked this and she thought other members of the department would enjoy it and benefit, too. The article shares insights on the importance of accurate awareness, tolerating competent mistakes, transparency and honesty, openness, employee development, and employee recognition. This article came from the Greater Good Science Center at UC Berkeley, and they also recommend discovering awe to grow humility. They even have an awe quiz – you might want to check that out!
I hope that you enjoy these recommendations – I'm definitely going to check out several myself! Please share your recommendations for good reading, too, by posting on this blog – reading is a great way to expand our horizons and learn something new, relax, and can make us better in so many ways. Happy summer!