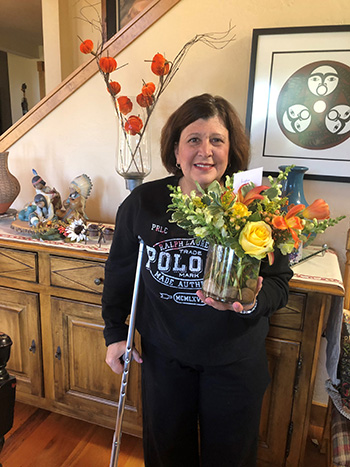 Last month I was out on medical leave following a total hip replacement. They say that doctors make the worse patients – I don't know if that's necessarily true, but being on the other side of health care is an interesting and humbling experience. Here's what I learned:
Appearing efficient and organized brings confidence in the patient and the family. This was my first patient experience outside of UCDMC in decades. I had to have a pre-op x-ray, and they couldn't find the requisition. Ok, maybe I should be more forgiving — that kind of thing can happen – but I was a little taken back when hunting for it meant foraging around in an old metal file cabinet full of papers, rather than the computer. The physician's office then had to re-fax (and who even faxes anymore??). On the day of surgery when I arrived at the bleak hour of 5:30 am, the admissions clerk sent my husband and I to the wrong waiting area – we sat there for almost an hour in a deserted waiting room without a soul in sight until someone discovered us and escorted us to the correct location. You can see how this sort of experience can add more anxiety to an already nervous patient – (think "wrong side surgery"??!!). Fortunately, I had every confidence in my surgeon, and the rest of the experience went well. But my experience did make me appreciate even more the importance of having good processes in our own lab, in our phlebotomy areas, and in all of our other operations. To inspire trust, we all need to pay close attention to detail and to how we appear to others. We need to put our best foot forward so that patients and providers feel confident in our work and in the results we provide.
Nurses make a patient feel safe and cared for. Being a patient can be scary, and the person who spends the most time with patients and delivers that caring touch are nurses. I had some cardiac imaging tests before surgery which were unfamiliar and uncomfortable – I greatly appreciated the nurse who rubbed my hands to provide reassurance and told me things were going well witha the procedure. My nurses in the hospital were terrific, too – any sort of movement was difficult and painful, and I appreciated their attention in every way. Nurses are important partners to those of us in the lab – in addition to being critical to high quality pre-analytic factors, like collection and labelling, they have the patient-face that we don't have, and can explain the importance of what we do and why lab tests are important to diagnosis, treatment, recovery, and health monitoring. Nurses can make us visible and and can make our work understood and relevant to the patient.
We are fortunate to have paid medical leave to recover from illnesses and surgery. In 2014, California became the second state to require paid medical leave for workers – currently there are only five states that require this benefit. However, this legislation only applies to large employers with more than 50 employees. Approximately 20 million workers each year take unpaid medical leave, more than half of which is for their own illness. It is difficult to work when not feeling well. Based on personal experience, I can share that my fatigue and discomfort would not have led to good decisions or much camaraderie if I had been at work.
We are fortunate to have colleagues who will step in and back-fill when we are sick. Legislation and workplace policies aren't enough — team work and team spirit are essential to a supportive workplace. Team spirit also help prevent abuses of leaves since workers with a strong team identity care about not over-burdening their colleagues. Interestingly, many employers, especially those in the Silicon Valley have moved to unlimited paid time off (PTO), encompassing vacation and medical leave – an intriguing but hard to imagine concept in health care environment where we need to ensure we have an adequate workforce to deliver patient care. The CEO of MammothHR, Nathan Christensen, shared his company's experience with unlimited PTO in an article in FastCompany, and pointed out that the autonomy and trust that comes with type of policy is seen as important to recruitment and retention. The surprise was that the MammothHR employees generally did not take any more time off than they did under previous accrual policy for vacation – in other words, there were not abuses. Christensen attributed this to the fact that the policy was anchored in the company's values of "care to the core" which meant that they expected reciprocity and mutual caring back to the organization from their employees. I especially like his comment that:
"…time off is a two-way street. We offer our employees flexibility because we want to invest in their personal lives. But the investment needs to be mutual. In return for flexibility, we ask our employees to invest themselves in our mission, making sure their work gets done and gets done well, so our organization can thrive, our customers are supported, and our colleagues can balance their lives, too."
In my many years here, I frequently hear comments about abuse of medical leave, family leave, etc. It is hard to know if abuses exist – no one can really know what's going on in a co-worker's life or how they feel physically or mentally. And I do agree that having leave benefits for illness, and family care is what a caring organization should do, and that this is important to recruitment, retention, and career growth – studying and advocating on this has been part of my research and creative work, and my administrative duties as both a former associate dean and now as a department chair.
But I agree with Mr. Christensen and the values at MammothHR that it is important that all who work here invest in our incredible mission here at UC Davis Health. Our community would not be the same without the care we provide – we therefore need to invest in each other and in our organization and ensure our commitment is here so that our community and region can thrive. We are frequently under-staffed and recruitment is not always easy since shortages exist in all types of lab professionals. My commitment as the department chair and medical director is to strongly advocate so that we get the staffing we need. When you or your loved ones are sick and in need, we want to be sure that the laboratory staff who need to be here are here — and that we can comfortably cover for each other to deliver the high quality care that is needed when it's our turn to be the patient or the care-giver.
I am grateful to everyone who stepped up to fill in while I was on medical leave – you all enabled a healing time for me, and you kept the ship afloat for others to get care, too. Thank you to all.