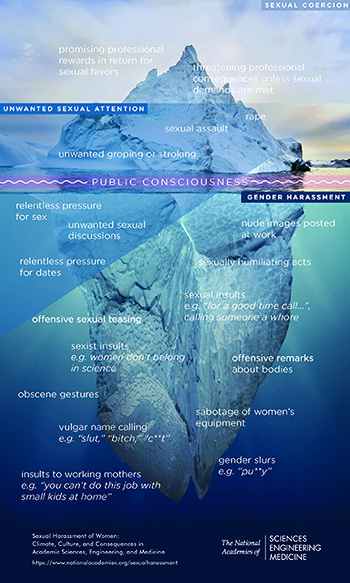 I have always felt fortunate to work at the University of California (UC), an institution with high ethical standards that values fairness and equity, and formally calls out sexual violence and sexual harassment as unacceptable behavior in both the Faculty Code of Conduct and in the Personnel Policies for Staff Members (1,2). But not everyone is as fortunate as me, including my own family. Years ago, one family member left her job to avoid uncomfortable flirtations and overtures by a manager. Not long after she left, other employees who were treated similarly at different company locations filed a large lawsuit, sadly, harassing behavior was endemic in their culture and continually ignored. Another family member left her job because she of less desirable and less lucrative assignments after returning from her maternity leave — exclusion and insults to working mothers are forms of sexual harassment, too. Experiences like these are below the tip of the iceberg (Figure 1) and not always recognized as sexual harassment. Unfortunately, these exist in every industry and profession. This is why the #MeToo movement attracted 5 million posts on Facebook — sexual harassment is not uncommon.
Though I have been fortunate, I've learned that the University of California – and academia in general – are not the exemplars that I have considered them to be. A new report on sexual harassment from the National Academies of Science, Engineering, and Medicine reported that academic workplaces are among the biggest offenders and medical schools are at the top of the list. In fact, 58% of academic employees report experiencing sexual harassment at work, a frequency surpassed only by the military. (3).
Over the past 10 years, UC paid a shocking $4.5 million in harassment settlements, according to a recent state audit of three UC campuses (Berkeley, Davis and Los Angeles) which also highlighted many areas for improvement(4,5). And like my sister's employer, UC has a history of tolerating harassing behavior, especially among its superstars. Headlines were made in 2015 when a prominent astronomer at UC Berkeley known for long-standing harassing behavior was finally forced to resign. Interestingly, his resignation was not prompted by investigations or discipline by his campus – instead, public pressure by his outraged scientific community forced the resignation (6,7). In 2016, UC Berkeley's Chancellor resigned over criticism of how this case of sexual harassment and others had been handled (7).
I was therefore especially pleased to organize and moderate a session on sexual harassment at the Association of Pathology Chairs' (APC) s annual meeting last month. The purpose of the session was to raise awareness among department chairs and plant the seed for future action since university leaders play an important role in creating and maintaining organizational culture and climate. The keynote speaker for my session was Lynn Gordon MD PhD, Senior Associate Dean for Diversity at UCLA's David Geffen School of Medicine, past chair of the Association of American Medical Colleges' Group on Women in Medicine and Science (GWIMS), and co-author of a recent article "It is Time for Zero Tolerance for Sexual Harassment in Academic Medicine" (9).
Dr. Gordon noted that professional and scientific societies, like the APC, play an important role in achieving a culture of zero tolerance. Several societies, like the American

Association for the Advancement of Science (AAAS) have changed their codes of conduct to address sexual harassment. Their policy specifically "reserves the right to remove an individual from the Annual Meeting without warning or refund, prohibit attendance at future AAAS meetings, and notify the individual's employer" (10). The American Astronomical Society also addresses conduct at national meetings, and has developed a list of emergency allies that members can text for assistance if they are in a vulnerable situation. Our pathology societies should also develop similar policies. As a member of the APC Council and President-Elect, I am encouraging the society to explore how other societies in other disciplines are addressing harassment in their policies, and use this experience to develop our own policies and programs in collaboration with our sister pathology societies. We should jointly address this issue specialty-wide.
But relying on our societies is not enough – harassment starts at home. The National Academies report provides several evidence-based recommendations to aid in preventing harassment which appear in the second figure in this blog post (3). Most of these recommendations are already in place here at UC Davis which I find encouraging, and a source of pride:
UC Davis has well-established reporting systems, and policies for faculty and staff stating harassment is unacceptable, that retaliation is prohibited, and that require regular training regarding sexual harassment.
The Mentoring Academy at UC Davis Health encourages mentoring teams rather than single mentors since this helps balance the power dynamic, and provide more robust mentoring advice, and we encourage mentoring teams in our department.
Seed funding is available in our department and through several UC Davis Health Centers. Most of these focus on junior faculty — this helps minimize the dependencies that make individuals vulnerable to harassment.
I can affirm that allegations are taken seriously on our campus through careful investigations — I have first-hand experience serving as a Provost-appointed investigator in more than one sexual harassment complaint.
In my view, the biggest challenge is to get victims of harassment to actually step up and report a harassing offense. Despite policies that prohibit retaliation, and programs that provide allies and support teams, individuals remain fearful. This phenomenon is not unique to academic medicine — fear of retaliation and implications for one's career is so pervasive in all parts of our nation's workplace culture, it inhibits the use of many of institutional policies, including family-flexibility policies and even vacation time, as I've noted in other blog posts (11,12).
Instead of fear, we need to actively cultivate a new culture of bravery. As I've shared with residents and faculty in the past, sometimes you just have to be brave, especially if you want to achieve change. Rosa Parks was brave when she chose to sit in the front of the bus. Neil Armstrong and Sally Ride were brave when they chose to take the risk and go into space. And without the bravery of our patients, we would never have been able to develop amazing new treatments like organ transplants.
Let's be brave and step up. Let's support those who've been harassed and be their allies. Let's melt the iceberg to create a safer career environment. Don't you think we owe it to ourselves, to the next generation, and to the communities our trainees and faculty serve?
References
General University Policy Regarding Academic Appointees: Faculty Code of Conduct, Policy 015, University of California Academic Personnel Manual https://www.ucop.edu/academic-personnel-programs/_files/apm/apm-015-and-016-issuance1/apm-015-7-1-17.pdf
Policy 12 Non-discrimination in Employment, Personnel Policies for Staff Members, University of California https://policy.ucop.edu/doc/4010391/PPSM-12
National Academies of Sciences. Sexual harassment of women: climate, culture and consequences in academic sciences, engineering, and medicine. National Academies Press, 2018.
Flaherty C. State audit says U California paid $4.5 million in harassment settlements. https://www.insidehighered.com/quicktakes/2018/06/22/state-audit-says-u-california-paid-45-million-harassment-settlements
Howle EM (California State Auditor), Report 2017-125 University of California: It must take additional steps to address long-standing issues with its response to sexual harassment complaints. https://www.auditor.ca.gov/pdfs/reports/2017-125.pdf
Flaherty C. Putting harassers on notice. October 15, 2015. Inside Higher Ed. https://www.insidehighered.com/news/2015/10/15/berkeley-astronomer-resigns-over-sexual-harassment-investigation
Bates CK, et al. It is time for zero tolerance of sexual harassment in academic medicine. Acad Med 2018; 93:163-165. https://journals.lww.com/academicmedicine/Fulltext/2018/02000/It_Is_Time_for_Zero_Tolerance_for_Sexual.15.aspx
American Association for the Advancement of Science Annual Meeting Code of Conduct. http://meetings.aaas.org/policies/
Howell LP. Why you should take a summer vacation. Pathology Chair's Blog, July 2018. http://blog.ucdmc.ucdavis.edu/pathology-chair/index.php/2018/07/05/why-you-should-take-a-summer-vacation/
Howell LP. The many facets of career flexibility in academic medicine: what does it mean to you? AM Rounds, Association of American Medical Colleges, August 29, 2017. http://academicmedicineblog.org/the-many-facets-of-career-flexibility-in-academic-medicine-what-does-it-mean-to-you/