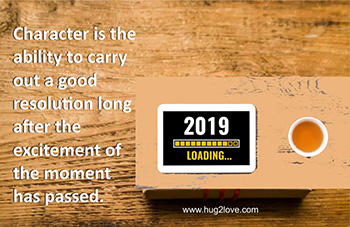 Happy New Year! The start of the new year is a time to look ahead to new beginnings, including new year's resolutions, a tradition that originated way back in the days of the ancient Babylonians.
To celebrate the start of 2019, I asked some of the newest members of our department what they are most looking forward to in the new year. What I love most about their responses is the common theme of optimism, confidence, and ambition for the future of our department and our specialty, as well as attention to family and personal interests to provide respite and balance — here's what they have shared:
Iyda Antony, our new Laboratory Director, joined us just a few months ago. She says her primary focus in 2019 will be growing empowerment among our lab team, and implementing new structures and efficiencies to accomplish this. Expect to see our daily operations begin with a 30-minute morning huddle that brings together team members from all of our locations to discuss what is working well, what's stuck, and what solutions are possible. Plus Iyda plans a renewed focus on Lean process improvement, a method that relies on an empowered workforce at every level, as well as the return of section-specific meetings to better engage the full lab team, including medical directors and section staff.
Danielle Payne-Uprichard is our new Anatomic Pathology (AP) manager – she also joined us less than a year ago. Danielle says a positive and welcoming workplace culture with open lines of communication is one of her top priorities for 2019. Workplace culture is important for all of our work, but is especially important to recruiting Pathologist Assistants (PAs) into our two open positions, another of Danielle's 2019 priorities which should improve turnaround time and clinician/patient satisfaction. I'm excited that Danielle and our Partners in Education Director Sharon Wahl are exploring how we can grow our own PAs as an affiliate of a PA training program. Danielle is also looking forward to welcoming her second child (a boy!) into the world in March – we are excited for her, too!
Navdeep Kaur is not new to our laboratory, but she is new in her role as our Quality Supervisor. As a CLS, the AP side is fairly new for her, so she is keen to learn more about AP workflows in order to work with the AP team to improve service and patient care. Navdeep is also excited about the new CAP competency assessment program which provides a systematic, organized, and efficient compliance approach for all six CLIA-required competencies, and allowing our staff to focus on other important departmental projects. Navdeep is looking forward to her upcoming vacation to visit family and friends in India in February 2019.
Dr. Brittany Dugger is the latest addition to our neuroscience faculty team. Brittany is excited that the 2019 federal budget includes the largest-ever funding boost for Alzheimer's research at the National Institutes of Health, thanks to bipartisan support – and she notes that yes, there are issues Republicans and Democrats can agree on! Brittany is therefore looking forward to more insights into the complexities of Alzheimer's disease, as well as new precision medicine approaches, such as work underway right here at our Alzheimer's Disease Center (https://health.ucdavis.edu/alzheimers/ ) examining how these diseases may present differently based on a person's lifestyle, culture, and/or genetics. Brittany is also excited about the growing recognition that UC Davis leaders are giving to our machine learning and artificial intelligence researchers who she describes as "amazing"!
Dr. Kristin Grimsrud is another new member of our faculty — and the first veterinarian to join our department, illustrating that we truly are a diverse, multi-disciplinary, and welcoming department. Kristin's research and clinical interest is in pharmacokinetics. In 2019, she is looking forward to analyzing the data from her two-year study at the Shriner's Hospital to examine the frequency and impact of genetic polymorphisms on fentanyl pharmacokinetics in pediatric burn patients. She is also looking forward to receiving the reviews from a recently submitted a NIH K01 grant that is an extension of her Shriner's study, expanding human enrollment and support development of a genetically modified rat model for conducting translation pediatric drug studies. And on a personal level, Kristin is looking forward to expanding her work with animal-assisted therapy and will be working towards a certification as an Equine Specialist in Mental Health and Training.
Dr. Tony Karnezis is our new gynecologic oncologist; he joined us this summer from the University of British Columbia. On a professional level, Tony says he is really looking forward to working with the new Chief of GYN Oncology, Dr. Rebecca Brooks, to strengthen the clinical and research relationships between our two departments. On a personal level, Tony is looking forward to exploring Sacramento and the beautiful surrounding areas in his spare time – he says "It sounds generic, but it's true!" Tony had a cycling accident and fractured his clavicle shortly after he arrived here – we are happy he is healthy once again, so he can get to know our department, university, and community and see what a great place we are in every way!
Lastly, Dr. Kristin Olson is a long-standing faculty member, but she has an important new role as Associate Dean for Curriculum – I am proud that such an important leader has been chosen from our department. Kristin has been charged with updating our medical students' learning experience, and says "As I contemplate the fresh start ahead for us all in January 2019, I consider in particular the exciting curricular renewal opportunities on the horizon for our School of Medicine. I am very thankful to have dedicated time as an Associate Dean for Curriculum to collaborate on this with my fellow faculty, as well as our inspiring students and dedicated staff — all of whom have shared some thoughtful ideas with me for how to take our curriculum to the next level. It will be fantastic to see these ideas come together this year in the form of a new curricular vision that builds upon the excellent content we already have."
And what am I looking forward to in 2019, as department chair?? I'm looking forward to helping everyone's dreams come true for the new year. I think we have lots of new opportunities that will make this possible, thanks to our new Vice Chancellor for Human Health Sciences, David Lubarsky and his exciting plans for growth and new financial models to support departments, as well as new opportunities provided by the talented new faculty and staff who will be joining us in 2019. I'm especially excited that Chancellor May and Vice Chancellor Lubarsky have asked me and the chair of Radiology Ray Dougherty to further develop our joint concept for a center focused on innovative diagnostics – after all, diagnostics is at the core of what we do. As journalist Bill Vaughn once said, "An optimist stays up until midnight to see the new year in. A pessimist stays up to make sure the old year leaves." I like to be an optimist – join me and your newest colleagues in ringing in a happy and exciting new year!!