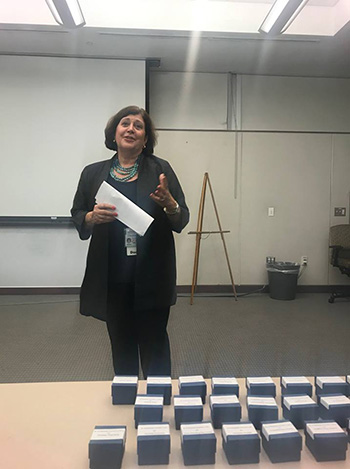 Last month, we celebrated our profession — and importantly, our laboratory professionals — as part of National Lab Week. We had a banner in the lobby, we were featured in a KCRA news segment, the hospital provided a special lunch, we enjoyed team building games, plus a few moments of relaxation and stress-relief through a special massage day.
My favorite part of Lab Week each year is not just the food and games (though I always love the cake….) – I really enjoy recognizing our staff with service pins to honor their many years of employment. Believe it or not, we are quite exceptional, and I think that really deserves a celebration.
I've heard it said that the average American changes jobs more often than they trade in their cars – it must be true since the average length of employment in the United States is only 4.3 years, according to the Bureau of Labor Statistics' 2018 survey. In management, professional, and related occupations – a category that encompasses much of our lab staff — the median tenure is only slightly higher at 5.0 years. One might expect older workers to have a longer tenure with an employer; but even so, the median tenure is only 10.1 years among workers ages 55-64 years.
In our lab, we clearly beat these statistics. On our service pin recognition day during Lab Week, we awarded pins for 580 total years of service:
5 years of service: 11 staff members
10 years of service: 13 staff members
15 years of service: 13 staff members
20 years of service: 3 staff members
25 years of service: 3 staff members
30 years of service: 1 staff member
35 years of service: 1 staff member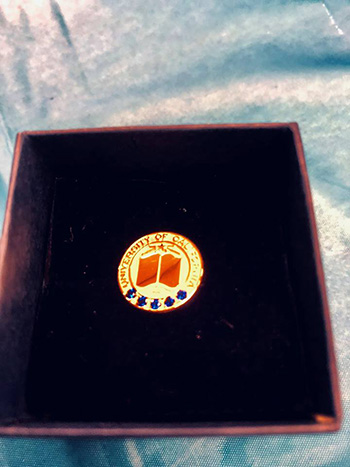 The grand prize winner was Joel Cooper who has been employed at UC Davis Health for 35 years – his beautiful pin with 5 blue sapphires is depicted on this blog page. We do equally well with faculty – it is well-known that medical faculty turnover nationwide is 50% leave in the first 5 years following their appointment. But in our department, we rarely have a faculty member leave in five years, and the majority stay a long time. Of those who have left, several faculty have gone on to leadership positions elsewhere demonstrating our reputation for outstanding talent.
So what makes people come and stay so long? Millennials are known for wanting portable careers, and for using their experience to quickly move wherever the grass is supposedly greener. Why are we the exception to the rule?
According to a recent Gallup poll, there are several factors that powerfully affect employee retention and engagement, especially for Millennials – here are a few that I think may be making a difference here at UC Davis:
Purpose: We have an amazing purpose here at UC Davis Health and I think that our employees recognize and value this. After all, what could be better and more inspiring than improving lives and transforming health? We care for the sickest and most complex patients in our region, and often the poorest, too. And our purpose goes beyond patient care. We are educators who train health care providers of all types – physicians, nurses, lab professionals, and more – to serve our historically under-served region. We also innovate and discover new knowledge through research and clinical trials. All parts of our department, including the lab, are major contributors to all of these mission, making our jobs more interesting and compelling.
Opportunities to learn and grow: As an academic health center, we don't just educate others, we educate each other. The work around us is leading-edge – we use the latest technology to offer the newest tests which offers on-going opportunity to learn and grow. One recent example in the clinical lab is our ability to rapidly detect pathogens, thanks to new test brought up on our BioFire instrument. And we provide lots of formal opportunities to learn, through grand rounds, guest speakers, and courses through Human Resources and Faculty Development.
Collaborative team-based culture: The positive culture in our lab clearly showed when I handed out the service pins. The remarks prepared for me by the supervisors for each recipient revealed many common attributes among our lab staff: cheerful attitudes, supportive to others, and willingness to pitch in and share work. Last year in faculty career planning sessions, I borrowed a question from "stay" interviews and asked faculty what made them stay rather than move on to other opportunities – the most common response was that they liked their colleagues and team-mates. A positive and friendly culture clearly makes a difference.
Work-life balance and flexibility: This is an area that I am passionate about since integrating work and life in a healthy and effective way is important to meeting obligations at work as well as at home, and ensures wellness. The University of California is very committed to a healthy and flexible workplace. UC Davis Health has been recognized by the Sloan Foundation with a career flexibility award. Our culture of flexibility is key to our success in many ways.
So what can we do to ensure that we attract and retain great colleagues for the decades to come? We need to continue to be great friends, colleagues, and coaches for those who join us. And we need to share how our daily work relates to our organization's purpose – according to the Gallup survey, only 1 in 4 Millennials report hearing during their work week how their daily work made a difference. There are many inspiring stories as to how we make a difference – we need to find them and share them. If you have great stories demonstrating the impact of our work, please share – you can even send directly to me at lphowell@ucdavis.edu — I'd love to hear and share with others.
Lastly, I love handing out service pins at Lab Week, because it reminds me of my grandfather. As I often share during the pin event, my grandfather worked at the same Chicago hotel from age 14 when he was hired as a shoeshine boy shortly after immigrating from Greece until the day he retired in his late 70s as the maître-d' of the hotel's dining room. My mother has framed his service pins – including a 60 year pin — and it is a valuable family heirloom. It is a source of inspiration that demonstrates commitment, loyalty, and the value of hard work that has shaped my sisters and our families.
We are all inspired by the hard work, loyalty, and commitment of our colleagues. Our family and friends are inevitably inspired, too – and our patients are grateful. Let's celebrate each other throughout the year – not just during Lab Week – and work together to develop the next generation of colleagues who will carry on these valuable traditions. I know that future department chairs will enjoy bringing recognition to the staff and their amazing work as much as I do.