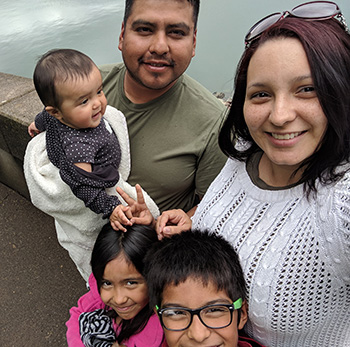 At first, I found out that I was having twins. But right after three months, I started bleeding and went to the ER. One no longer had a heartbeat. An ultrasound revealed that I had a very rare condition called a partial molar twin pregnancy. Complete molar pregnancies don't develop a baby. They develop a placenta with tumors. A partial molar pregnancy is where a baby and placenta with tumors form.
My OBGYN at the time (who was not a UC Davis physician) explained my risks if I continued this pregnancy and suggested that I terminate that pregnancy to lessen the risks to me. I had a 55 percent chance of developing persistent gestational trophoblastic disease (or GTD), rare tumors caused by pregnancy. They also said that the remaining twin only had a 50 percent chance of making it 23 weeks.
I decided that I wanted to monitor this and see how it went and was told that I would need to transfer my care to UC Davis Health, if I wanted to continue with my pregnancy, which I did.
The following week, I got an appointment for genetic counseling and a chorionic villus sampling (CVS) at UC Davis Health. The CVS would identify chromosome abnormalities and other genetic disorders. I also opted to get the Fluorescence in Situ Hybridization (or FISH) test, which helps identify where a particular gene falls within a person's chromosomes.
It was at this appointment that I met Dr. McLennan. She asked me what I had been told so far. I explained to her all of my understanding and where I was in the pregnancy. She asked me if options were given to me and then asked me what I want to do. I liked her calm voice.
I told her I wanted to wait and see. She listened to me. I felt my relief then.
The CVS results revealed that I was one of two in the United States with a partial molar twin pregnancy and co-existing twin. It was extremely rare and no one at the hospital had seen it before.
I continued to be monitored every two weeks, with two ultrasounds per month. Once I made it to 38 weeks, my husband and I discussed the risks and benefits and decided to have a scheduled C-section since the longer I was pregnant the higher my risk of persistent GTD.
I'm happy to report that I am healthy now and my daughter is right next to me very happy and healthy and trying to crawl. Without the calmness of Dr. McLennan and without her giving me the option to choose my own path, I wouldn't have this beautiful baby today that we named Safira.
– Testimonial submitted by Emma Rosales, Safira's mother