Bloating and Breathing Issues Also Cause Alarm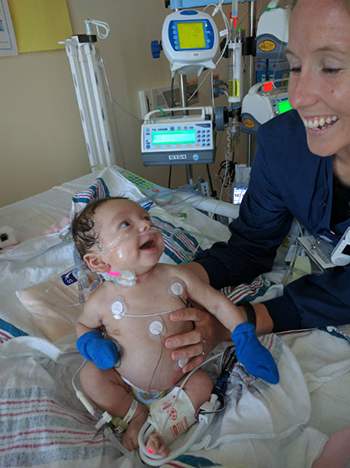 All we knew was that our infant son, Aiden, couldn't eat. He also had terrible bloating. The first hospital we visited told us the reason he couldn't keep food down–eating only 2 ounces at a time–was gas. Seeing him in so much pain broke our hearts. His breathing was labored, and, although his arms and legs were really thin, his stomach was huge. Feeling helpless and not knowing what to do, we took him to the Lodi Memorial ER for treatment. They immediately did an ultrasound and saw that his stomach was quickly filling up with fluid. Next thing we knew, the UC Davis transport team appeared and he was on his way to UC Davis Children's Hospital.
It seemed that because of the bloating, his abdomen was being pushed against his lungs so that he couldn't breathe normally. By the next morning, however, he was hooked up to machines to help him breathe. After that, they drained his abdomen, and sent the fluid out to be tested.
Children's Hospital's Outstanding Support System
It's horrible to see your child in any kind of pain or to have to watch staff insert countless needles and IVs into that small little body. At the same time, however, you're so anxious for everyone to do any and all things humanly possible to make your child better and more comfortable. The nurses, doctors, staff and volunteers at UC Davis Children's Hospital are an amazing team. Often, parents have to travel far from home to get to UC Davis Hospital, and they have to do it without any kind of support from their families. Our situation was further complicated because, not only were we far from home, we also had two other little ones back in Arkansas who needed us. Though there where times we needed to leave Aiden (aka "Tornado") for a day or two, while we were gone, the UC Davis nurses took really great care of him. They not only took amazing care of our child, they took care of and supported us too. They got to know us and made us feel at home.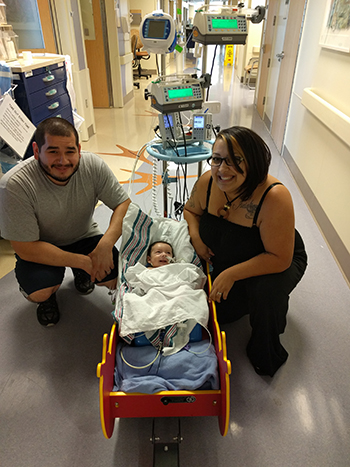 I would like to thank the whole 10th floor (PICU). They're truly amazing! Although the PICU can often be a place where children receive treatment for very serious conditions, we didn't find it scary at all! Everyone is really upbeat, with really happy personalities. That attitude alone made us feel safe and comfortable from the get go. They're all really amazing and I couldn't be more thankful.
Because of that, when Aiden was recently transported to UC Davis Children's Hospital for a second time (for a different issue), I wasn't the least bit afraid. This hospital took such great care of him before, I knew they'd do it again. You have one amazing staff here.
–told by Aiden's mom, Reina