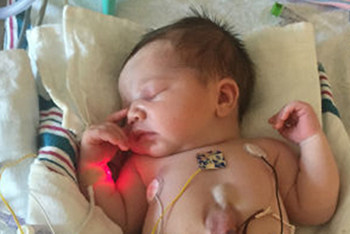 First Case of Pentalogy of Cantrell (PoC) at UC Davis
I was brought to UC Davis Hospital when I was 25 weeks pregnant with my daughter, Taylor. I went in for an ultrasound thinking my daughter had hypoplatic left heart syndrome. During the scan, however, we learned she had something much rarer–Ectopia Cordis. This meant that a piece of my daughter's heart was beating on the outside of her body. I delivered via emergency C-Section at UC Davis on July 5th, 2016. It was then discovered that my daughter had a rare congenital heart defect called Pentalogy of Cantrell (PoC–a syndrome that causes defects involving the diaphragm, abdominal wall, pericardium, heart and lower sternum). My daughter was the first case of PoC at UC Davis. We were told that this disorder is usually fatal, but Taylor turned out to be a miracle baby. UC Davis Hospital took the very best care of her every time we stayed in the NICU & PICU.
We were so pleased with the care we received from UC Davis Children's Hospital. They not only took amazing care of Taylor, they gave us–her parents–the support we desperately needed. Whether it was another bottle of water or a friendly laugh, they always had everything and anything we needed. Everyone made us feel extremely comfortable. I really considered UC Davis Children's Hospital to be our home away from home. Taylor was my first baby and she was diagnosed with an extremely rare heart defect. Having a baby with a health problem is overwhelming and emotionally draining. Though my family and I were never sure what was going to happen, the staff at UC Davis was always supportive and reassuring. I felt safe leaving my baby girl to get food or rest up at the Ronald McDonald House because I knew Taylor was in the best hands possible. It seemed that whenever I walked into her room, Taylor was cozy in her nurse's arms or in the PICU hallways being wheeled around in a froggy wagon. They always treated Taylor like their own and I will always be grateful for that.
We'll Always Be Thankful
There are so many wonderful nurses, staff, and volunteers who took such special care of my daughter. I would personally like to thank her surgeons, Dr. Raff and Dr. Herose. I would also like to thank Krista Moo who took such good care of us in the NICU (both times we stayed). A special thank you goes to Nurse Stacy in the PICU, who always took Taylor for rides in the wagon. Taylor loved it! I think Taylor had almost every nurse in the PICU and I was never disappointed. We always got top care.
Although my daughter was the hospitals first case of PoC, I always felt confident in the team we had. They never missed a beat, were always on top of things and constantly showed us that they truly cared. UC Davis Children's Hospital will always be my favorite hospital. It is outstanding.
–by Taylor's mom, Kayley Bell