A Surgical Repair of Chest Deformity
When our son, 14-year-old Rob, pointed his skis downhill and pushed off to compete in the high school ski race in March, few in the crowd knew his story. It had only been a short nine months before that he had undergone a surgical repair of a chest deformity at UC Davis Children's Hospital. And now, here he was, living successfully with a stainless steel bar supporting his sternum.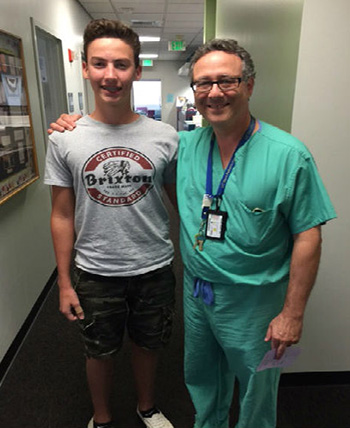 The Issue: Pectus Excavatum (or Chest Dent)
We first noticed his chest dent (what we now understand was a case of Pectus Excavatum) when then 13-year-old Rob had a rapid growth spurt. After Rob alerted us that something was wrong with his chest, we took him to see Dr. Raff, a Pediatric Thoracic Surgeon at UC Davis Children's Hospital. Dr. Raff examined Rob, explained what was happening inside his chest, and answered all of our questions. He also lightened the mood by joking that many of his teen-aged patients use their chest dent as a cereal bowl.
After looking at Rob's chest CT scan results and pulmonary studies, Dr. Raff confirmed that Rob had exercise intolerance due to his chest being compressed towards his heart. This made sense to us–we had taken note of his struggle to keep up on the basketball court. A surgical procedure that would instantly correct the sinking inward of Rob's sternum–by placement of a steel bar–was recommended. Rob was scheduled to have this procedure after his eighth grade graduation.
As anxious as we were, Rob, his dad and I were all sure Rob's chest should be repaired. Not only was he having discomfort and suffering from exercise intolerance, he was also embarrassed because he looked so different from the other kids, especially when he went swimming. We wanted as much wholeness for our child as possible.
A New Procedure — Cryotherapy — Becomes Available
Early on the morning of June 26, we walked into the Pediatric Surgery Wing of UC Davis Children's Hospital, nervous but excited that the day had finally arrived for the repair. Luckily, the day before surgery, a new procedure, cryotherapy, had been approved by the FDA. The new procedure would numb the thoracic nerves, thereby reducing Rob's pain for three months after surgery. Dr. Raff was excited that cryotherapy was now available in the states after having been used extensively in Europe. Rob would be the second patient to receive it at UC Davis Children's Hospital. We trusted Dr. Raff's advice and took advantage of this new method of pain control. We weren't disappointed. After surgery, Rob's pain was managed well from a combination of both the numbing from the cryotherapy and IV medication; his time in the hospital was decreased by several days.
After surgery, the Pediatric ICU Recovery Room was a wonderful experience. The nurses and doctors were competent and caring beyond our expectations. Rob received the constant attention and careful monitoring he needed to keep his pain at a tolerable level and the healing process at a premium. Although the procedure he had undergone was a very painful one, the staff made sure he received all the care he needed to be as comfortable as possible. The kitchen even sent up his favorite PB&Js for snacks! We became very attached to our day and night nurse, as well as to the team of doctors who checked on him constantly.
Rob was very proud of his new look, and happily showed visitors his repaired chest. Once home, he continued to work on deep breathing, in order to expand his lungs. At the prompting of Barb, one of the surgical nurses working with Dr. Raff, we suggested to Rob that he join the school's ski team. Barb, an avid skier, understood Rob's passion for the sport. Although the pre-season workouts were grueling and the ski season was not without some struggle, his efforts paid off when he proudly made it to the California Regional Championship races.
Rob is now living successfully with the chest deformity, Pectus Excavatum. The surgical repair has given his heart room to expand and beat strongly. His chest looks the same as every other kid's. Thank you, Dr. Raff and all the others at UC Davis who have been part of his journey to wholeness.
— by Rob's mom, Amy Trent