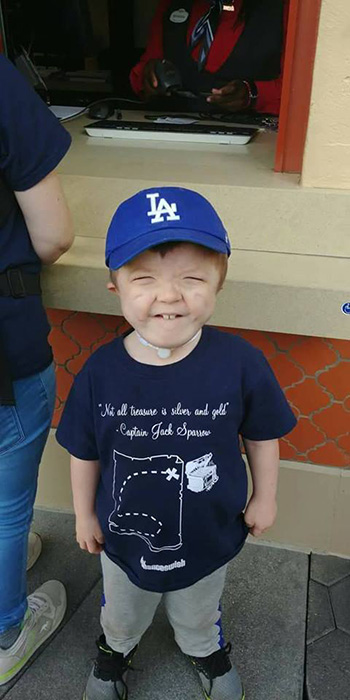 Chance was born at UC Davis Medical Center in January of 2011. He has a rare genetic condition called Oto Palatal Digital Syndrome with Pierre Robin Sequence. He had a trach placed when he was two days old, and when he was 4 days old he had to be placed on an Extracorporeal membrane oxygenation (ECMO) machine as he was retaining carbon dioxide in his lungs; he was in acute respiratory failure. We were told at the time that it was a risky, last resort type of procedure and there were no guarantees that it would work. Thankfully, his blood gas levels returned to normal and he was able to come off the ECMO machine after a week.
He spent the next four months in the NICU struggling with feeding issues and a staph infection in his lung, which required weeks of IV antibiotics. He came home in early May with his trach, a feeding tube, and all the equipment and supplies that go along with them. He was also given a diagnosis of chronic lung disease and it was uncertain what developmental challenges he would face.
In his first few years, he needed to be hospitalized at least once a year in the UC Davis PICU because of a respiratory illness. The stays were anywhere from 1-2 weeks; almost always on a ventilator for part of the time.
I cannot say enough good things about the staff at UC Davis. We live 2.5 hours away from the hospital and during his NICU stay I had to go back and forth from Redding to Sacramento, as we have 3 other children at home. Knowing that he was in such good hands made having to leave him a little more bearable.
He spent his 2nd birthday in the PICU with pneumonia, and the nurses made sure he still got to celebrate a little bit.
He has also had several surgeries and procedure in the Children's Surgery Center. He's what I like to refer to as a "frequent flyer." The staff always goes above and beyond to make sure he is as comfortable as possible.
Chance will be turning 9-years-old in a couple of months and is now feeding tube free! His impromptu hospital stays have also become fewer and far between as he has gotten older, although we are still extra cautious during cold and flu season. He is in a special day class in a local elementary school and is thriving- he recently got the "Best Mathematician" award for the past trimester. It is amazing to see how far he has come after such a rough start to life and an uncertain prognosis for the future. He is definitely a miracle kid!
– Testimonial submitted by Jennifer Arnold, Chance's mom