Then . . .
This story begins in 2012. Shortly before Thanksgiving of that year, Erin Ciapponi delivered her second child at Mercy Medical Center in Redding, Calif. Guy weighed in at a healthy 7 pounds, 14 ounces. Immediately afterwards, however, the baby experienced breathing and lung difficulties. Doctors at Mercy diagnosed him with a life-threatening condition of newborn babies: persistent pulmonary hypertension of the newborn (PPHN).
When babies are born with this condition, the vestigial blood vessel doesn't close and blood is directed away from the lungs, depriving the heart and other organs of oxygen. Guy was admitted to UC Davis Children's Hospital intensive care unit, where he could receive the complex medical care he required.
Pediatric Transport Team Takes Flight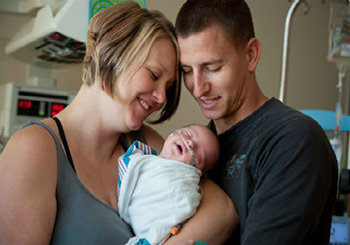 Feeling helpless, the Ciapponis drove nearly 200 miles to UC Davis, while the UC Davis Children's Hospital Pediatric Transport Team flew their 1-day-old son to UC Davis.
Associate Professor of Pediatrics and neonatologist Ian Griffin recognized Guy's struggle and consulted the Extracorporeal Life Support team housed in the PICU/PCICU. Guy was soon placed on extra-corporeal life support (ECLS) in the NICU and then was transferred to the PICU/PCICU. ECLS is similar to the heart-lung bypass used in operating rooms. Guy remained on ECLS for seven days.
ECLS (Extra-Corporeal Life Support) Saved Guy's Life
"Without ECLS, Guy would not have survived," said Laura Kenny, assistant patient care services manager and ECLS coordinator of the PICU/PCICU's ECLS. "His PPHN was so severe that it was not treatable with any of our other lifesaving capabilities. We reserve ECLS for only the most severe conditions affecting the heart and or lungs. Guy is a perfect example of that."
While Guy was on ECLS, his isolette was surrounded by the ECLS machine, monitors and other medical devices. By Thanksgiving, 2012, most of the medical equipment had been removed and Guy's parents were finally able to hold him.
And Now…an update from Guy's mom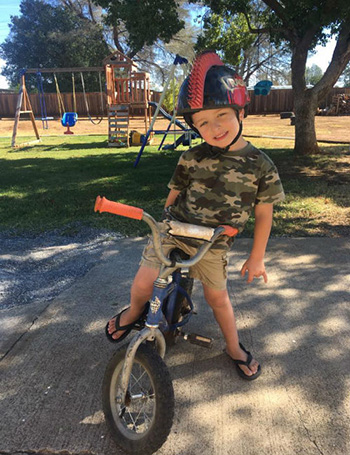 Guy just turned 4 and is quite the wild child. He loves to ride his bike and quad, play with his big brother and little sister and is as healthy as can be! Everyone at UC Davis' PICU/PCICU floor was incredible and if it wasn't for all of you Guy wouldn't be here with us today. My family and I are forever grateful!!!