A High Risk Pregnancy Gets Complicated
Sarah McElroy, pregnant with twins, woke in the middle of night. Only 28 weeks into her pregnancy, her water breaking was the furthest thing from her mind. However, when her husband, Jon, called UC Davis Medical Center, they were directed to go to the hospital for evaluation. They arrived at 1:30 a.m.
Sarah's pregnancy was considered high risk because she'd had a kidney transplant when she was 17. Her doctor was Dr. Tache, a high-risk OBGYN at UC Davis Medical Center. Until that evening, however, her pregnancy had been complication free.
An Emergency C-section Is Performed
As the on-call emergency room doctors evaluated her condition, Sarah began having contractions. Doctors performed an emergency cesarean section and on Sept. 23, 2015 at approximately 5:30 a.m., Riley (girl) and Noah (boy) were born. At just 1 pound, 14 ounces and 2 pounds, 7 ounces, respectively, the twins would require the expert care of the staff at UC Davis Children's Hospital neonatal intensive care unit (NICU) for a number of weeks.
Ronald McDonald House Provides Comfort and Support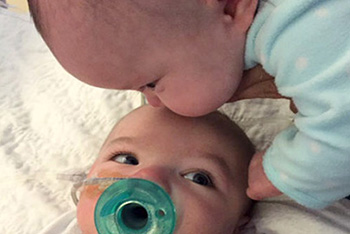 With everything Sarah had been through, the last thing on her mind was worrying about traveling from their home in Roseville to the hospital for an extended period of time. Jon, on the other hand, was stressed about their 8-10 weeks of commute while the twins remained in the NICU. Father-in-law and former Ronald McDonald House board president Mac McElroy came to the rescue when he recommended the Ronald McDonald House for their stay, where they remained for the next nine weeks.
"Staying at the Ronald McDonald House provided us with a great support system. We got to talk with other families going through similar situations. And staying nearby took a lot stress off of us," Sarah and Jon agreed.
UC Davis Children's Hospital Send Riley and Noah Off to Healthy Start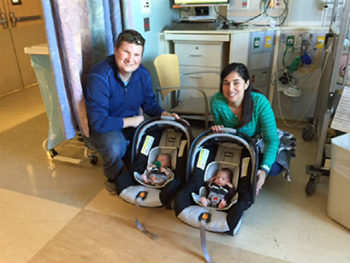 At 6-months, Noah was diagnosed with intestinal mal-rotation, for which he had surgery at UC Davis Children's Hospital. Today, however, 8-month old Riley and Noah are happy and healthy siblings. "Our UC Davis experience has been amazing," Sarah said. "Our kids are thriving because of the doctors and nurses that have worked with them. We've received the best medical care possible. Most of all, this experience reminds me to not take things for granted. I am very grateful for everything we have."
–told by Riley and Noah's mom, Sarah