June 29, 2017 was the most amazing day of our lives–Myla was born. I will never forget when they brought her to me. They placed her on my chest and I was overcome with so many emotions. The wonderful team at UC Davis Children's Hospital gave us time with Myla so we could stare at our beautiful little girl and soak up the moment. But soon I started to think–is she hungry? How do I feed her? I was already jumping into mama mode–wanting to care for my daughter, and into new mama mode–being insecure on how to do so.
Fortunately, we received great support from the medical team as well as the lactation consultants. I was having a great deal of trouble getting her to latch onto my right breast. Then came night two in the hospital and Myla became very upset. Around 2 a.m. I noticed that when Myla let out another hearty wail, the tip of her tongue seemed to be attached at the front. Could this be our challenge? Yes, indeed.
It's Called Ankyloglossia
We were sent home after two days but knew the tongue (and lip) attachment (commonly known as "tongue- and lip-tied"; medically referred to as ankyloglossia), needed to be addressed. Debbie Albert was very helpful at our support group and provided several options for further assessment and care. We were referred to Dr. Allison Trout, who recommended we speak to Kids Korner for a Bowen Therapy session. I called straight away. Unsure of what Bowen Therapy was, I was a bit nervous. I shouldn't have been. The owner of the clinic–Judy–was great! She told me all about the practice and offered to fit us into her schedule that very week. We were in!
The Bowen Technique
At the consultation, Judy listened to our birth story as well as our concerns before evaluating Myla. She talked us through each step; she knew we were nervous new parents. She explained that Myla's tongue "tie" was connected to tightness elsewhere. Everything was connected. The Bowen Technique, she clarified, was a very natural way of loosening up muscles, and would result in the best success for recovery from the snipping of the lip/tongue tie.

As it turned out, Myla was very tight on her right side, which is why I had trouble breastfeeding. It all made sense! After Judy worked with Myla and was able to loosen her up, she prompted me to nurse. No joke, it was THE best latch I had ever had! So far, we were very happy with the treatment as well as how natural an approach this was. So far, everyone was doing everything possible so that our sweet baby girl would be set for success!

We booked our consultation for the snipping with Dr. Trout's office, while, at the same time, coordinating with Bowen Therapy. Dr. Trout's office was able to schedule us within the next week, and Judy (at Kids Korner) planned to meet with us afterwards to ensure Myla was relaxed and ready for the procedure.
The Tongue\Lip Snip
Though nervous about the actual snip, my husband and I were very pleased with Dr. Trout and her staff. Dr. Trout evaluated Myla and explained the laser therapy procedure for snipping the lip and tongue ties. She answered all our questions and concerns so that we were completely confident that our daughter was in the absolute best hands. I waited outside (afraid to hear my baby cry) while my husband stayed in the waiting room. Five minutes later, they were ready for us to come back. I was absolutely shocked–she wasn't even crying!! She was simply looking content as the staff held and supported her. Wow! I was impressed!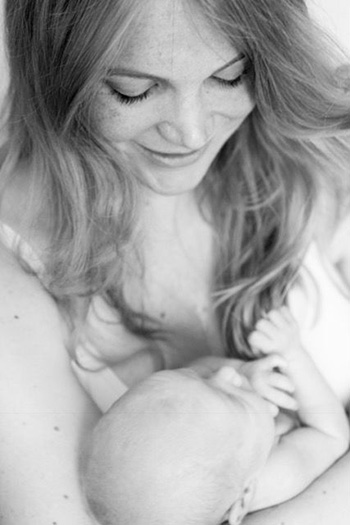 The staff then encouraged me to nurse Myla whenever we were ready. Sure enough, she successfully latched on a short time after. I was SO happy I could have skipped out of that office. Dr. Trout confirmed that babies who visit Bowen Therapy before this procedure are much more content afterward. It made such a big difference! I'm a believer.

To make sure we stay on the right track, we continue to visit Bowen. The therapy serves to compliment Myla's
recuperation and guarantee her continued success. I can't say it enough. It's ALL natural. No drugs. No harm.

We are very happy with our current status, as our baby girl and I are now pros at breastfeeding. Instead of being in pain as I nurse, I can truly enjoy our beautiful connection and the bond we're creating.
So Thankful to Everyone
Every person who helped and has worked with us on this journey, from those at UC Davis Children's Hospital to Kids Korner and Dr. Trout, provided us with amazing support at every step. We benefited from so many great people on amazing teams, all working together to make the best life possible for our little family. We celebrate them as well as the bright future they helped us begin to create.
–submitted by Myla's mom, Missy