Telehealth Makes Crucial Difference for Baby Avery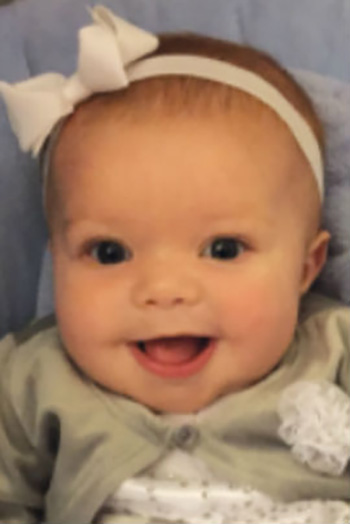 Baby Avery was just a week old and in severe circulatory distress when her parents, Eric and Kim Griffiths, rushed her along twisting Tuolumne County mountain roads to Sonora Regional Medical Center in rural Sonora.
Fortunately, the hospital's pharmacy had a specific drug on hand. Also, UC Davis Health had installed telehealth equipment at the Sonora hospital only weeks earlier, part of a project to measure and help illustrate and expand the benefits of that innovative system of care.
Sonora physicians Donald Dudley and Kelley George used telehealth gear to connect and consult with UC Davis neonatologist Francis Poulain, and doctors who were 90 miles apart were able to collaborate in real time to diagnose and stabilize Avery's potentially lethal heart defect.
"This telemedicine technology is fantastic," Kim Griffiths said. "It did wonders for us. If it saves one person, especially a baby, it's worth it. I know that Eric and I will be always grateful."
Avery Seems Listless
The morning it all began, Avery was less interested than normal in feeding, and had been sleeping longer than usual. When Kim changed Avery's diaper that afternoon, the infant's legs didn't pull up as they normally did, but flopped to the sides. By the time Eric got home – Avery's breathing had become extremely labored.
"Her skin was really pale and mottled, and then she started to turn blue around her mouth and became cold to the touch." Kim said.
The couple hurriedly drove to the hospital. By the time they arrived, Avery's oxygenation was below 50 percent – dangerously low – and she was going into shock. "She was critically ill," said Sonora emergency room physician Dudley. With time running out, he and his team immediately started bag-assisted ventilations, examined and intubated Avery, summoned on-call pediatrician George of Foothill Pediatric Medical Center and phoned UC Davis Medical Center for a neonatology consultation. He connected with Poulain, who was driving home after his shift.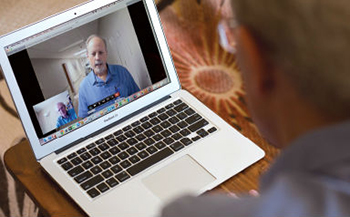 Based on Dudley's description of the infant's appearance, Poulain recommended intubating Avery to avert respiratory arrest, starting an IV line, and administering a prostaglandin drug to keep the ductus arteriosus open. Suspecting that Avery had a congenital heart problem, he also summoned a UC Davis emergency flight crew to bring her to UC Davis Children's Hospital.
Telemedicine Connection Is Made
Poulain arrived at his apartment and used his laptop computer to make an audiovisual connection with the Sonora emergency room's telemedicine equipment. The live video showed high-resolution views of Avery and her vital signs monitor, enabling Poulain to converse with Dudley and George and view what they were seeing firsthand in the Sonora surgical suite.
"At first the child's clinical appearance – color, perfusion, oxygenation – was very bad. But after the prostaglandin started to do its job, Avery's oxygenation level recovered into the 80-to-90 percent range," says George, who had urged the hospital to keep a supply of the drug on hand.
The combined efforts of the three physicians and nurses kept Avery stabilized until the air transport crew arrived to take Avery to UC Davis for detailed evaluation and specialized care. A coarctation or narrowing of her aortic artery emerged as the principal reason for her circulatory distress.
"Five minutes of pulse oximetry usually is reliable in screening for critical congenital heart disease in newborns, but research has shown that the few cases that oximetry misses are the kind of condition that Avery has – in which there is an obstructive lesion on the left side of the heart," Poulain said. "Many other conditions can present with shock, as Avery had, but starting prostaglandin can be life-saving; in her case, it was."
Acidosis at Dangerous Levels
"Her acidosis – the amount of acid she had in her blood – was approaching fatally toxic levels. Without the prostaglandin, I'm convinced she would not have come to us alive." An echocardiogram overseen by UC Davis cardiologist Jeanny Park revealed Shone's complex, a rare cardiac condition of which coarctation is a component. UC Davis cardiothoracic surgeons Gary Raff and Amy Rahm performed open-heart surgery to repair the malformation.
Today Avery remains under the care of UC Davis pediatric cardiologist Andrew Pelech, who specializes in interventional catheterization. She may eventually require other surgery, but for now she is developing normally, happily and otherwise healthily.
"Without question, the availability of telemedicine helped make a critical difference for Avery," Dudley said. "Fortunately, it's not often that we see such a critically ill child that we only have minutes not just to resuscitate them, but to intervene in order to prevent a tragic death. Dr. Poulain's advice was critical to the timely administration of life-saving medication."
"Dr. Poulain was hugely helpful as we spoke and shared information and ideas," added George, who had proactively secured the drug that Poulain credited with saving Avery's life. "The ability for an expert like him to lay eyes on a child helps a great deal." "Rural areas lack specialists, especially in pediatrics, because they can't support themselves (in small communities). That makes telehealth a hugely beneficial technology that I hope gets better with time.