Hello,
I am sitting at my desk trying to figure out how to thank you all for helping my twins in ways that I will never fully comprehend.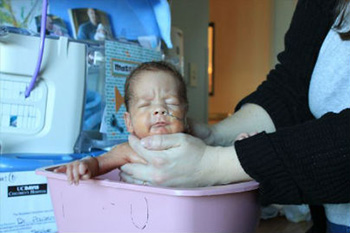 On November 4th, as I walked to the ACC building on the UC Davis Medical Center campus on a beautiful fall day for a follow-up ultrasound, I was 24 weeks pregnant with twins. I was happy, feeling well, and excited to see my little ones on the monitor. Within the first few minutes of the ultrasound, however, I was met with the fire department whisking me away to D3 Emergency. Within 20 minutes I was strapped to monitors and placed in Trendelenburg position (body laid flat on back with feet higher than head by 15-30 degrees) …which was how I remained for 2 weeks until my sweet babies were delivered by emergency C-section.
UC Davis NICU Provides Rescue and Relief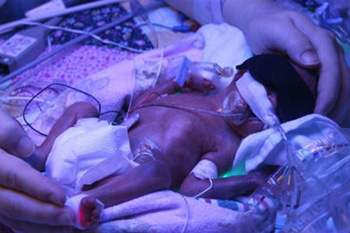 My twins, Matthew and Morgan, were born at 26 weeks and rushed to the NICU. My first visit with them was like taking a breath of air after being under water too long. Matthew's APGARs were 1/1, 2/5, 7/9. Morgan was breathing on her own right away…she was our little super star! Our first encounter with the NICU nursing staff was exceptional. Each nurse took time to carefully explain Matthew's, and then Morgan's condition. They showed us the lines, tubes, and equipment they were attached to and then slowly explained how the equipment was supporting their two pound bodies. Every day we watched the nurses care for our twins with compassion and tenderness. The first time we were able to hold them was a delicate orchestra of moving tubes, beeping monitors and gentle touches.
Our twins fought hard. The medical interventions they received allowed them to survive. The love and minute-by-minute support they received from the NICU nurses allowed them to thrive. Week by week we watched Matthew and Morgan meet small and big milestones. Weeks turned into months and before we knew it the twins were five pounds, eating and breathing well and ready to head home with our family in February, 2011. Our premature journey had finally come to an end.
A Nursing Staff to Recommend and Remember
There were two nurses who stood out–Lori Faber and Nicole (we can't recall her last name). Lori managed the care of our twins and provided care for our family during this difficult time. She always anticipated what might allow us to be more at ease and comfortable during our visits. She learned about our family through conversation and careful observation. An example of this: She always had cleaning items and diapers at the bedside when I arrived. She knew I was happiest when washing, changing, holding, and feeding the twins myself. She even helped me create a schedule to post at the bedside so that other nurses would be aware of my preference to provide direct care.
What stood out about Nicole was how she listened and always offered help. When we wanted to take Christmas pictures of the twins, she offered to coordinate a family photo shoot at the bedside. She hung a curtain and borrowed decorations from the lobby. She also allowed our daughter to come in and be included in the pictures. As a result of this act of kindness, our two-year-old met her siblings for the first time and we were able to capture a moment in a family photo that we will have forever. Finally, manager Sheryl Ruth, was also incredible. There were times when I was in the waiting room with my daughter and I'd hear her speak with parents and siblings with an abundance of care and kindness. Her smile and direct engagement with our family was icing on the cake.
The Care Continues
Matthew returned to the children's hospital in those early years for multiple surgeries that were all successful. Matthew was then diagnosed with Autism Spectrum Disorder by Dr. Robin Hansen in early 2012. He was enrolled into the Early Start Denver Model (ESDM), an early intervention program under the supervision of Dr Rocha, the summer of 2012. When he started the program, he did not have language skills and there were many obstacles in his path of meeting his developmental milestones. The ESDM was the greatest gift to our family. Although the program was very challenging, we all made it through. Matthew developed great skills and my husband and I were able to parent more effectively/cohesively.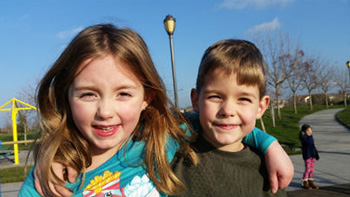 Matthew and Morgan were accepted into MENSA on May 9th and they will graduate from Kindergarten at St Francis of Assisi Elementary School on May 31st. Each of you helped them in so many ways. You have been called to your profession for a reason. The fact that they were introduced to each of you and received your support is astonishing to me.
Words will never fully express the gratitude we feel for the UC Davis Children's Hospital and the MIND Institute staff.
As Matthew often asks, "What is more than infinity?" I tell him the answer is the love and gratitude we feel for people.
You are all more than "infinity".
Sincerely,
The Williams Family