Story Burger is lucky to be alive. Thanks to emergency room doctors and her mother's instinct, the 21-month-old girl was able to survive a rare brain condition.
"Story woke up from a nap really lethargic," Joy Burger said. The toddler's mom said that Story's left eye was a little droopy and her left pupil was unresponsive.
"Parents need to follow their gut," Burger said. "You know, I had a professional tell me it was a stomach bug — and I still went with my gut."
Potentially Deadly Diagnosis
Her gut was right. It turns out Story had a very large hemorrhage in her head, caused by an abnormal tangle of blood vessels that burst.
Story was airlifted to UC Davis Children's Hospital on June 16 for emergency surgery.
"It's a hemorrhage into the brain," said Dr. Marike Zwienenberg, a pediatric neurosurgeon who helped save Story's life. "By definition that falls under the category of stroke." She had a very rare brain condition that affects 1 in 100,000 kids called arteriovenous malformation (AVM), which is deadly if left untreated.
UC Davis surgeons operated to remove the pressure on Story's brain. AVM is extremely rare in toddlers, Zwieneberg said.
"I think the youngest patient I had treated before this was probably about 3 and a half," she added.
There's no doubt the condition is serious. Zwieneberg said if Story wasn't immediately treated, "she would have died from this. She had quite a large blood clot in her brain."
It was a frightening experience for Story's dad.
Devastating First Few Days
"It was really 'shock and awe' for the first day or two," Nate Burger said. "I could not believe that this was happening to our little girl."
"She was like a rag doll there on the table," Nate Burger added. "It was unreal."
But thanks to Zwieneberg and her team at UC Davis, Story survived the ordeal. After three weeks in the hospital, she is now flourishing.
"Trust your instincts," Nate Burger said. "You know your child and be an advocate for your child's health."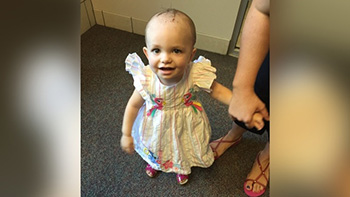 Story was back at UC Davis Children's Hospital Thursday to have her sutures removed.
"Her prognosis is excellent," Zwieneberg said. "She did great … She's wonderful like a normal child and it's the best gift she could give me."
–Story's story told by her parents, Joy and Nate.