My mom worked for UC Davis when I was a child and retired after 36 years, so we have always had our care under UC Davis Health. When I started my own family, I chose UC Davis Health because I knew I would have access to the best. I had both of my children delivered by amazing OB/GYN's and their teams. When my daughter Lily was born with branchio-oto-renal syndrome, a condition that has resulted in hearing loss and kidney disease, we were very overwhelmed and scared.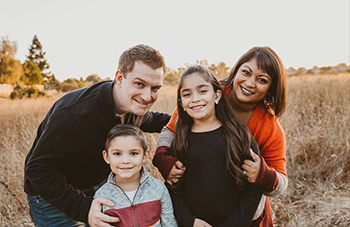 However, we knew we had Dr. Butani, the best pediatric nephrologist on our side. He was able to help put our minds at ease. There have been many doctors that oversee Lily's care including otolaryngologist Rodney Diaz and audiologist Dr. Audrey Bracchi who we consider the best in their respective fields.
We've been through a lot as a family, but these doctors have been with us every step of the way, including her pediatrician Dr. Michael Lucien. Each one makes Lily's journey easy to cope with. They are all patient and kind and make us feel like she is important to them. We are so thankful for her team of doctors who make us feel like she's a priority.
UC Davis Health care is everything to me. I know that my daughter would not receive better care anywhere else. From physicians and specialists to medical assistants and nurses, I am so grateful for the care my family receives.