UC Davis Health gives patient a second chance at life — twice
(SACRAMENTO)
Bassem Mansour does not remember his first stay at UC Davis Health when he battled cancer as a baby. He does remember the second time, at 15, when he woke up in the Emergency Department hearing an oxygen machine compressing, seeing lights flashing and being unable to feel his legs.
Earlier in the day he had gone on a bike ride near his home in El Dorado Hills to celebrate getting an A on his geometry test. As he turned a corner, a pickup truck towing a boat sideswiped him and dragged him like a rag doll for 50 feet.
"It felt like the truck appeared out of nowhere. I had no time to process that I was in danger," Mansour said. "The next thing I remember was a paramedic kneeling beside me asking for my name and address."
Mansour was airlifted to UC Davis Health's Department of Emergency Medicine, the area's only level I trauma center.
Nine surgeries and counting
Mansour had suffered 14 fractures, lost much of the skin on his lower body, and his left leg was nearly severed.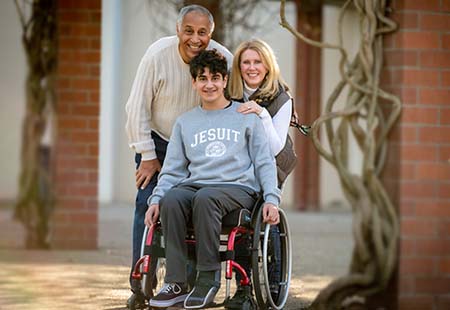 "My leg was basically being held on only by skin, it was literally hanging by a thread," Mansour recalled.
In total, Mansour required nine surgeries including multiple skin grafts, a bone graft and a flap on his left foot. Creation of a flap is a surgical technique in which a section of healthy tissue is partly detached intentionally, while leaving its blood supply intact, and shifted to cover a wounded area. The procedures were coordinated and performed by Philip R. Wolinsky, professor of orthopaedic trauma; Robert Allen, professor of orthopaedic surgery; Claire Manske, assistant professor of orthopaedic surgery; and Brian Haus, chief of the Division of Pediatric Orthopaedic Surgery.
"All of the surgeons have been amazing and so open to all of my questions," he said. "They have always been honest about what they were going to do during the procedures, what my recovery was going to look like and how painful it would be. They never tried to soften the blow and sugarcoat things. I felt very informed."
Mansour still has little feeling in his legs, but with a few surgeries still ahead and a lot of physical therapy he hopes to be able to walk again.
"I can already walk a little with a specialized walker," he said. "I know I still have a lot of rehab work, but I'm determined to get back on my feet."
A home away from home
Mansour was only 6 months old when he was first hospitalized at UC Davis Medical Center to begin treatment for a neuroblastoma the size of an orange growing near his spine. During his treatment, he underwent intensive chemotherapy to shrink the neuroblastoma sufficiently to enable it to be removed surgically.
"The care Bassem received as a baby and as a teenager from the pediatric nurses and staff was top notch," recalled Sylvie Bergeron, Mansour's mother.
Among the nurses who provided care to Mansour was Jana Poeling, who was one of his primary nurses when he was a baby as well as when he was a teenager following his accident.
"It almost felt like I had a second mom taking care of me when I was in hospital," joked Mansour. "It was so reassuring having someone I knew and trusted there with me. I could not have asked for better care."
I will never forget the support I received, which went far beyond my medical care."
Caring for the whole person
One of the challenges Mansour faced during his second stay at UC Davis Health was managing the complex feelings and emotions he felt following his accident.
"At times I felt like I was being punished for something I had done," Mansour remembered. "I would sit there and just think 'what did I do to deserve this?'"
Yakout Mansour, his father, said that supporting Bassem's mental health was the biggest difference between his hospital stay as a baby and as a teenager.
"As a baby, Bassem was not aware of the situation," he said. "However, after the accident he was suffering from a lot of PTSD [Post traumatic stress disorder]. The UC Davis doctors, nurses and staff were incredible, providing care not just for his physical well-being but also his emotional well-being."
During his nine-week hospitalization, UC Davis Health psychology specialists from the Division of Pain Medicine worked closely with Mansour to familiarize him with resources to work through the trauma he experienced.
"It was great to have their team provide this type of care in addition to treating his physical pain," said Yakout Mansour. "They really provided him holistic care."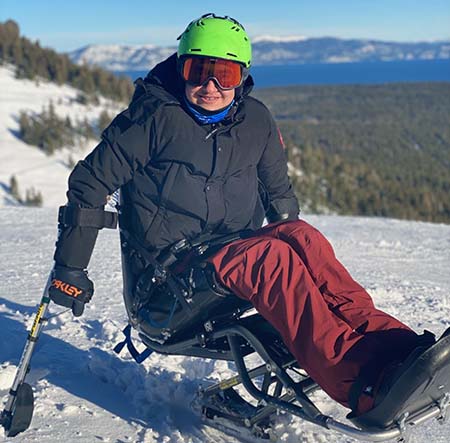 Mansour also received support from UC Davis Health's child life specialists, who work to minimize the anxiety of hospitalization for young patients. Following one of his nine surgeries, the team decorated his hospital room with a Star Wars design bedspread, curtains and other items.
"After having a Star Wars themed room, a lot of residents and nurses would stop by my room to chat about the latest Star Wars movie," said Mansour. "It was great being able to connect with them about something other than my surgeries or rehab, since I couldn't have my friends visit because of COVID-19."
In appreciation of the Child Life and Creative Arts Therapy Program, Mansour and his parents have started the Bassem Mansour Pediatric Trauma Therapy Fund. The goal is to raise money for the program to help pediatric patients with music and art therapy, as well as other types of creative therapy that will tend to their mind and spirit while doctors mend their bodies.
"I will never forget the support I received, which went far beyond my medical care," said Mansour.
Getting back on the slopes
Now a junior at Jesuit High School, Mansour is making the transition back to life as a teenager. For now, he gets around campus in his wheelchair, where he performs in the Jesuit music program as a percussionist with the jazz, symphonic and funk bands.
Mansour still faces multiple procedures, including reduction of the thickness of the flap graft on his left foot, but he is trying to focus on enjoying the remainder of his time in high school.
During a recent appointment, his physical therapist introduced him to monoskiing, a form of adaptive skiing.
"Skiing has always been huge part of my life — I learned to ski when I just 3 years old," Mansour said. "I've only used the monoski a few times, but I'm starting to get the hang of it. Being back on the slopes gives me a sense of normalcy I have not felt since the accident, and it really feels great."