Vet student hopes to find cures to human and animal cancers after winning prestigious scholarship
(SACRAMENTO)
Aryana Razmara, a fourth-year dual-degree DVM and PhD student at UC Davis, said she plans to use a prestigious veterinary sciences award to continue her comparative oncology research, which focuses on finding cancer cures in both humans and dogs.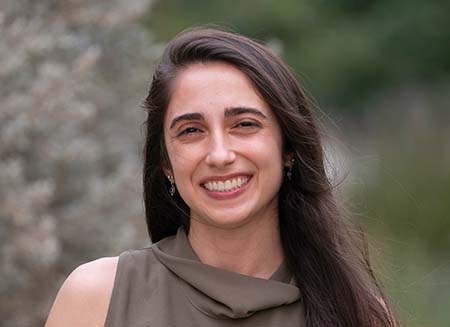 Razmara is one of five recent national recipients of the American Veterinary Medical Association (AVMA)/American Veterinary Medical Foundation (AVMF) 2nd Opportunity Research Award for her work in veterinary medical research. The AVMA and AVMF offer this annual award to veterinary students making contributions to the veterinary profession through accomplishments in research.
The 2nd Opportunity Summer Research Scholarship supports veterinary students who have previously conducted a summer research project and are seeking to gain a second summer of research experience. The award provides a $5,000 scholarship and a $1,000 stipend to attend the 2022 AVMA National Scholars Symposium in August.
"I'm grateful for the opportunity to continue research in the Canter Lab focusing on NK based cancer immunotherapy which will support my training as a future veterinary scientist," Razmara said.
Razmara said she will use the funds to continue her research in comparative oncology and canine immunotherapy, an investigation she has undertaken as part of her doctoral studies in the laboratory of Robert Canter, professor of surgery and chief of the Division of Surgical Oncology. The Canter Lab has a strong focus on multi-species models for natural killer (NK) cell immunotherapy.
The Canter Lab research team is one of a select group of labs across the world studying dog NK cells. They have completed a first-in-dog clinical trial of palliative radiation with intra-tumoral NK cell transfer for a dog with naturally occurring osteosarcoma. The team's research also examines further characterization of the activating and inhibitory receptors of NK cells as part of a multi-species evaluation of optimizing NK cancer immunotherapy, and it is broadening dog canine immunotherapy comparative oncology clinical trials with other novel immune agents.
"This award is an impressive and well-deserved acknowledgment of Aryana's dedication to comparative research. Her outstanding work ethic and keen research mentality will undoubtedly enable her to capitalize on this opportunity and make meaningful contributions to the exciting work taking place in our lab," Canter said.
UC Davis Comprehensive Cancer Center
UC Davis Comprehensive Cancer Center is the only National Cancer Institute-designated center serving the Central Valley and inland Northern California, a region of more than 6 million people. Its specialists provide compassionate, comprehensive care for more than 100,000 adults and children every year and access to more than 200 active clinical trials at any given time. Its innovative research program engages more than 240 scientists at UC Davis who work collaboratively to advance discovery of new tools to diagnose and treat cancer. Patients have access to leading-edge care, including immunotherapy and other targeted treatments. Its Office of Community Outreach and Engagement addresses disparities in cancer outcomes across diverse populations, and the cancer center provides comprehensive education and workforce development programs for the next generation of clinicians and scientists. For more information, visit cancer.ucdavis.edu.