American Cancer Society Relay for Life coming to Russell Field
(SACRAMENTO)
The American Cancer Society at UC Davis student organization is holding a Relay For Life event to raise money for the American Cancer Society. The overnight event will take place at Russell Field on the UC Davis campus, from April 30, at 10 a.m., to May 1 at 10 a.m.
"We have an incredible 24-hour event planned with ceremonies to honor and celebrate survivors and caregivers including games, activities, music, food and much more," said Seona Patel, event chair and executive board member. "Bring your friends and family out to support the American Cancer Society in our efforts to end the fight against cancer!"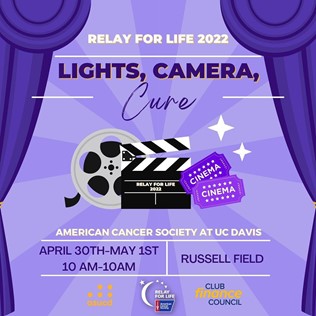 The American Cancer Society Relay For Life movement is the world's largest peer-to-peer fundraising event dedicated to saving lives from cancer. For more than 35 years, communities across the world have come together to honor and remember loved ones and take action for lifesaving change. Funds raised through Relay For Life directly support breakthrough research, 24/7 support for cancer patients, access to lifesaving screenings, and much more.
This year's theme for the UC Davis Relay For Life is "Lights, Camera, Cure" and the goal is to raise $30,000. You can donate or join the UC Davis Comprehensive Cancer Center's team, or you can form your own team.
Luminaria light up the night
A luminaria ceremony honoring loved ones who have been affected by cancer will be held after sunset (9 p.m.) on April 30. Luminaria bags, lighting messages of hope and remembrances, will line the walkway as the emotionally moving ceremony takes place.
Elizabeth Morris will speak during the ceremony. She underwent treatment for breast cancer last year shortly after she assumed her position as chair of the UC Davis School of Medicine Department of Radiology in early 2021.
"We have all been touched by cancer in some way and if you've ever wondered how you could make a difference, then please join us in our efforts to support the American Cancer Society's Relay For Life. We hope you can help us get one step closer to eliminating cancer," Morris said.
For more information, you can email American Cancer Society at UC Davis at acs-exec@ucdavis.edu or call (913) 616-4379.
UC Davis Comprehensive Cancer Center
UC Davis Comprehensive Cancer Center is the only National Cancer Institute-designated center serving the Central Valley and inland Northern California, a region of more than 6 million people. Its specialists provide compassionate, comprehensive care for more than 100,000 adults and children every year and access to more than 200 active clinical trials at any given time. Its innovative research program engages more than 240 scientists at UC Davis who work collaboratively to advance discovery of new tools to diagnose and treat cancer. Patients have access to leading-edge care, including immunotherapy and other targeted treatments. Its Office of Community Outreach and Engagement addresses disparities in cancer outcomes across diverse populations, and the cancer center provides comprehensive education and workforce development programs for the next generation of clinicians and scientists. For more information, visit cancer.ucdavis.edu.