Appointments available for Pfizer/BioNTech COVID-19 booster shots
(SACRAMENTO)
UC Davis Health has begun giving third shots of the Pfizer/BioNTech COVID-19 vaccine to eligible patients. Experts encourage patients to take advantage of the availability of boosters to protect themselves and family members.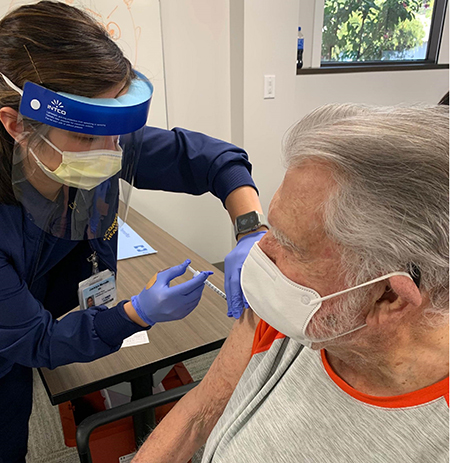 The U.S. Centers for Disease Control and Prevention (CDC) is recommending the third dose of the Pfizer/BioNTech vaccine for certain patients six months following the second dose of the COVID-19 vaccine.
Longtime UC Davis Health patient and former TV anchor Stan Atkinson was one of the first in line to get his booster. He is urging others to do the same.
"This is my third Covid vaccine," said the 88-year-old Atkinson. "The shot didn't cause any discomfort or side effects other than a sore arm—whether it was the first, second or third time I received the vaccine."
Currently, boosters are only available for people who received initial doses of the COVID-19 vaccine from Pfizer. Immunocompromised patients who received initial doses of Pfizer or Moderna also qualify for a third dose.
Here is the breakdown of eligible groups:
People with compromised immune systems: The CDC recommends that "people with moderately to severely compromised immune systems receive an additional dose of mRNA COVID-19 vaccine at least 28 days after a second dose" of Pfizer or Moderna COVID-19 vaccine.
People age 65 and older: Pfizer-only booster shots should be given at least six months after the second Pfizer COVID-19 vaccine.
People age 18-64 with an underlying health condition: Pfizer-only booster shots should be given at least six months after the second Pfizer COVID-19 vaccine.
People who work in a high-risk job: Pfizer-only booster shots should be given at least six months after the second Pfizer COVID-19 vaccine.
General public: An FDA panel rejected COVID-19 booster shots for the general public due to insufficient data, according to the FDA.
The Moderna vaccine is awaiting approval for use as a booster. Experts say it remains highly effective. According to CDC data, the Moderna vaccine is 94.1% effective at preventing laboratory-confirmed COVID-19 infection in people who received two doses and had no evidence of being previously infected.
Experts encourage all eligible patients to get vaccinated against COVID-19, as the vaccines are highly effective at preventing serious infections leading to hospitalization or death.
Go to the UC Davis Health COVID-19 website to learn more about the criteria regarding who is eligible to get the booster or to schedule an appointment through MyTurn or MyUCDavisHealth.
UC Davis Health is improving lives and transforming health care by providing excellent patient care, conducting groundbreaking research, fostering innovative, interprofessional education, and creating dynamic, productive partnerships with the community. The academic health system includes one of the country's best medical schools, a 627-bed acute-care teaching hospital, a 1,000-member physician's practice group and the Betty Irene Moore School of Nursing. It is home to a National Cancer Institute-designated comprehensive cancer center, an international neurodevelopmental institute, a stem cell institute and a comprehensive children's hospital. Other nationally prominent centers focus on advancing telemedicine, improving vascular care, eliminating health disparities and translating research findings into new treatments for patients. Together, they make UC Davis a hub of innovation that is transforming health for all. For more information, visit health.ucdavis.edu.