Free holiday 'store' set up for pediatric patient gifts at cancer center
Former patient comes back from a second life-saving stint in the hospital to donate gifts
(SACRAMENTO)
Twice, UC Davis Health doctors have pulled out all the stops to save Bassem Mansour. First, when he was diagnosed with pediatric cancer at 6 months and then, at 15, when he was hit by a pickup truck while riding his bike near his home in El Dorado Hills. Due to the accident, he suffered more than a dozen broken bones and nearly lost his left leg.
Now 16, and not quite back on his feet, he's giving back by presenting a basket of gifts to the UC Davis Comprehensive Cancer Center "holiday workshop."
"It is my way of saying thanks," said Mansour, back at Jesuit High School and enjoying his junior year.
Still in physical therapy to regain the ability to walk, Mansour used a wheelchair to deliver the basket of items he purchased with his own $300 saved for the cause. The items were all geared for teens his age and included blue tooth beanies, giant stress balls and Squid Game t-shirts. The Mansour family also donated a $1,000 check to the Child Life and Creative Arts Therapy Program at UC Davis Health.
"We can't say enough about UC Davis doctors and nurses as well as the Child Life program," said Yakout Mansour. "They are so passionate about taking care of their patients—and not just their physical well-being but their emotional well-being, too."
Bringing joy to patients during the holidays
Child life specialist Jenny Belke created the temporary "store" at the pediatric hematology oncology clinic, which provides a little joy for children going through treatment during the holidays. Toys, all sorted and stacked, as well as books, craft material and other goodies fill a room. Often, though, there are not enough items for teens to pick from. This year, that won't be a problem thanks to help from families like the Mansours.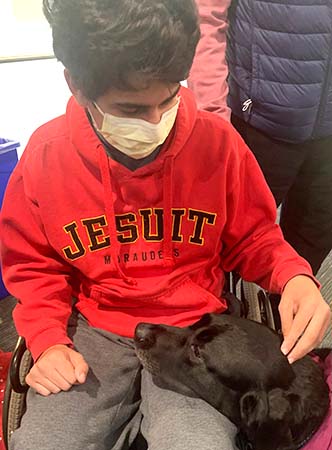 "UC Davis has become a home-away-from-home for Bassem not just once, but twice," said Belke. "He knows what it is like for our young patients to stay weeks and months in the hospital. He really stands out, not just because of his resilience, but because of his generous spirit and gratitude, too."
You could see by the way the pediatric facility dog Huggie approached Mansour when he dropped off the gifts that he is well known and well-loved at UC Davis Health.
"I missed you," said Mansour as the black Labrador Retriever eagerly put his head in his lap.
Sylvie Bergeron, Mansour's mother, said she remembered when child life specialists gave her son toys when he was first admitted as a pediatric cancer patient in 2005 and then, last year, when they decorated his room with a Star Wars theme — bedspread, curtains and all, after he returned to his hospital room following one of the 10 surgeries he endured in 2020.
"It was unbelievable the support Bassem received last year and also when he was a baby," Bergeron said. "In fact, he learned how to walk, holding onto an IV pole, while strolling the halls of the cancer center and the drum the child life specialists gave him during music therapy helped inspire his interest in music."
Mansour performs in the Jesuit music program as a percussionist with the jazz, symphonic and funk bands, and is, once again, off to high school band competitions this month.
Help donate to the pediatric hematology oncology clinic "holiday store"
If you would like to donate items to the UC Davis Comprehensive Cancer Center holiday store or make a monetary contribution, contact Jenny Belke at jbelke@ucdavis.edu or 916-703-2720.
Through Christmas Eve, parents of pediatric patients checking into the clinic or infusion room for chemotherapy can secretly walk in, select a book, stuffed animal and a toy for each of their children. Items not given away by Christmas will be given to children in the clinic and infusion room on other occasions throughout the year.
Donations to the Child Life and Creative Arts Therapy Program are encouraged. To find out more about the program and/or to donate, click here.
UC Davis Comprehensive Cancer Center
UC Davis Comprehensive Cancer Center is the only National Cancer Institute-designated center serving the Central Valley and inland Northern California, a region of more than 6 million people. Its specialists provide compassionate, comprehensive care for more than 100,000 adults and children every year and access to more than 200 active clinical trials at any given time. Its innovative research program engages more than 240 scientists at UC Davis who work collaboratively to advance discovery of new tools to diagnose and treat cancer. Patients have access to leading-edge care, including immunotherapy and other targeted treatments. Its Office of Community Outreach and Engagement addresses disparities in cancer outcomes across diverse populations, and the cancer center provides comprehensive education and workforce development programs for the next generation of clinicians and scientists. For more information, visit cancer.ucdavis.edu.