Megan Daly appointed as interim leader for cancer center clinical research
(SACRAMENTO)
Megan Daly has been named the interim associate director for Clinical Research at UC Davis Comprehensive Cancer Center.
Daly replaces Karen L. Kelly who announced in December she is taking on a new role as chief executive officer of the International Association for the Study of Lung Cancer.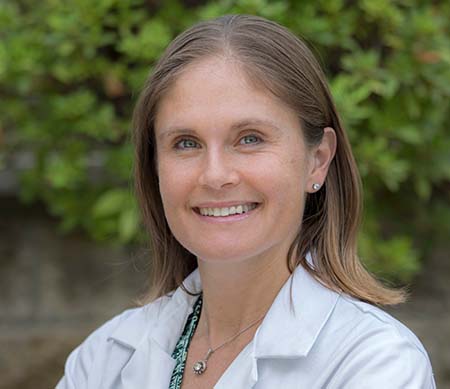 Cancer center Director Primo "Lucky" Lara, Jr. appointed Daly to the position, effective March 1, 2022.
"Dr. Daly is passionate about research as well as giving cancer patients hope for a cure and access to our broad spectrum of clinical trials," said Lara.
Daly, a radiation oncologist and associate professor, joined UC Davis Comprehensive Cancer Center in 2011. Her research interests focus on the use of radiotherapy for the treatment of early-stage lung cancer, integrating radiation and immune checkpoint inhibitors in solid tumors, clinical implementation of new PET tracers, and reducing radiation-related toxicity.
"I am excited to build on the outstanding work done by Dr. Kelly over the past decade. We have a terrific clinical research program at UC Davis because of the innovative work of our faculty and staff, and I am thrilled to have a chance to help guide and enhance that program," Daly said.
Kelly will remain a member of the UC Davis faculty as emeritus professor. She said Daly will be an excellent interim associate director.
"I have had the pleasure to work with Dr. Daly since her arrival," said Kelly. "We have been co-investigators on several trials. Her clinical research skills are superb, and she is a compassionate physician. Dr. Daly is the ideal investigator to spearhead our clinical research program."
Currently, the cancer center oversees more than 200 clinical trials as well as the novel Sacramento Citywide Oncology Phase I program (SCOPE), an academic-community partnership that encompasses the major hospital systems in the Sacramento region.
UC Davis Comprehensive Cancer Center is the only institution in Northern California, outside of the Bay Area, with the infrastructure required to conduct Phase I clinical trials. Its Phase I, Phase II, and Phase III trials test the safety and efficacy of newly developed drugs and treatments.
UC Davis Comprehensive Cancer Center
UC Davis Comprehensive Cancer Center is the only National Cancer Institute-designated center serving the Central Valley and inland Northern California, a region of more than 6 million people. Its specialists provide compassionate, comprehensive care for more than 100,000 adults and children every year and access to more than 200 active clinical trials at any given time. Its innovative research program engages more than 240 scientists at UC Davis who work collaboratively to advance discovery of new tools to diagnose and treat cancer. Patients have access to leading-edge care, including immunotherapy and other targeted treatments. Its Office of Community Outreach and Engagement addresses disparities in cancer outcomes across diverse populations, and the cancer center provides comprehensive education and workforce development programs for the next generation of clinicians and scientists. For more information, visit cancer.ucdavis.edu.