Sarcoma research at UC Davis gets boost from Shingle Springs Subaru
Local Share the Love Event to help adolescents and young adults with rare cancer
(SACRAMENTO)
Research into sarcoma received some traction after Shingle Springs Subaru presented an $82,671 check today to the UC Davis Comprehensive Cancer Center as part of 2020 Subaru of America's Share the Love Event.
Lor Randall, an internationally recognized sarcoma surgeon and scientist, accepted the oversized check from local dealership owner Bryant McCarver and his wife Kirsten. Randall joined UC Davis Health in 2018, and the McCarver's teenage daughter Kate was one of his first patients.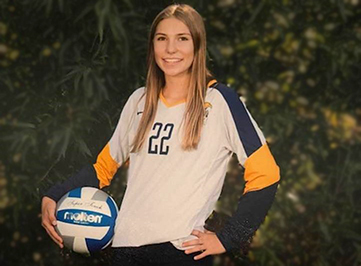 Randall, who is chair of the Department of Orthopaedic Surgery, is leading research into Sarcoma, a cancer that invades the bone or muscle. Unlike most types of cancers, sarcoma is often found in children and young adults. Kate was only a sophomore at Oak Ridge High School when a sarcoma was detected close to her scapula. The El Dorado Hills volleyball player thought she had injured her shoulder, but a scan spotted a tumor at the site of her sharp pain. Randall carefully removed the cancerous growth and, fortunately, it has not returned.
"She went back to competing on her volleyball team, but then COVID hit and the season ended," said her mom. "Kate is now a college student studying psychology and we could not be more grateful for the cancer care she has received at UC Davis. We were impressed to find out we could get this type of high-caliber care close to home."
We can't wait to see what our community can help us generate in 2021.
The McCarvers were so inspired by the successful treatment their daughter received for her rare cancer that they decided in 2019 to "give back" to UC Davis sarcoma research. As part of Subaru's national Share the Love Event, the company donates $250 for each new car sold during the holiday season. Shingle Springs Subaru decided to match that at their dealership. More than $60,000 was raised locally the first year, which increased in 2020 to the more than $82,000 revealed today.
Shingle Springs Subaru customers buying new cars from November through January get to choose among several causes they would like Subaru to donate to, and now one of those choices is sarcoma research at UC Davis Comprehensive Cancer Center.
"The money raised by Shingle Springs Subaru will go directly to researching the disparities in outcomes we see in our adolescent and young adult sarcoma patients," said Randall. "The McCarver family is showing remarkable dedication to helping other young patients fighting this devastating cancer."
UC Davis Comprehensive Cancer Center
UC Davis Comprehensive Cancer Center is the only National Cancer Institute-designated center serving the Central Valley and inland Northern California, a region of more than 6 million people. Its specialists provide compassionate, comprehensive care for more than 100,000 adults and children every year and access to more than 200 active clinical trials at any given time. Its innovative research program engages more than 240 scientists at UC Davis who work collaboratively to advance discovery of new tools to diagnose and treat cancer. Patients have access to leading-edge care, including immunotherapy and other targeted treatments. Its Office of Community Outreach and Engagement addresses disparities in cancer outcomes across diverse populations, and the cancer center provides comprehensive education and workforce development programs for the next generation of clinicians and scientists. For more information, visit cancer.ucdavis.edu.