A network of healthy connections
How illness and work have kept one patient so well connected
(SACRAMENTO)
To say Roger Mendoza is well connected to UC Davis Health is like saying Lebron James plays basketball every so often. It's a bit of an understatement.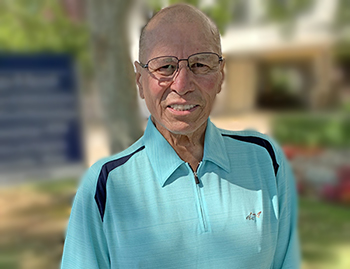 Mendoza works for Panduit, a data cabling and connectivity company that does business with UC Davis. He ensures the health system's 143-acre Sacramento campus has the telecommunications connectivity it needs.
But the 67-year old Sacramento resident has spent almost a much time as a patient in clinics and the hospital as he has as a salesperson surveying the health system for cable installations.
"If it hadn't been for UC Davis Health, I wouldn't have been able to do my job," said Mendoza. "You folks have extended my life."
It started in 1980, when Mendoza was rushed home from overseas trip to have his gall bladder removed at UC Davis Medical Center.
In the early 2000s, Peter Belafsky, a professor of otolaryngology, spotted and biopsied two small bumps in Mendoza's throat. A tumor diagnosis required Mendoza to undergo radiation and chemotherapy treatments at UC Davis Comprehensive Cancer Center.
That was followed in 2014 by another cancer diagnosis -- and subsequent treatments -- for acute myeloid leukemia.
In between illnesses, Mendoza was also keeping UC Davis Health at the forefront of online connectivity, as one of the nation's Most Wired hospitals. He was helping the health system install what today is more than 2,300 miles of IT cabling infrastructure. It's the wiring that powers everything from electronic medical records to free the Wi-Fi patients and visitors enjoy each day.
By 2017, Mendoza wasn't just visiting outpatient clinics to check cable specifications. He was also seeing UC Davis cardiovascular specialists for high blood pressure and atrial fibrillation.
That same year, he suffered a mild brain hemorrhage. So his next visit was to the Department of Neurological Surgery.
"I have so much trust in UC Davis Health. I've never had any doubts. Through all my illnesses, I've also learned to focus on letting fear go and being grateful. It's a change in perception. And it has served me very well."
— Roger Mendoza
Then, more recently, a new throat biopsy revealed another tumor. This time, the otolaryngology head and neck surgery team did an exploratory procedure to assess the size of the tumor and, subsequently, recommended removal of the mass.
Mendoza underwent a robotic-assisted procedure, a highly specialized technology offered at UC Davis Health. And, while he has experienced a lot of different treatments and procedures, Mendoza says he's constantly eyeing his clinical care rooms for his networking handiwork.
"Even when I went into the operating room for my robotic throat surgery, I was looking around the room at the cables," chuckled Mendoza. "Of course, I couldn't see much since they were putting me under. But I knew my cabling solutions were all over the OR, too."
Mendoza brings a one-of-kind spirit wherever he goes. It's an attitude that undoubtedly has helped him sell telecommunications products as well as survive multiple health scares over the years.
"Roger is quite unique," said Timothy Beamesderfer, who's been Mendoza's Carmichael-based primary care physician for nearly 15 years. "He's always upbeat and positive in all circumstances, and probably the most resilient person I know. No doubt redoubling his fitness efforts has helped him bounce back from repeated illness, disease and surgeries."
Rebounding from health adversity is certainly one of Roger Mendoza's great accomplishments. He exudes never-ending optimism. And underlying that resilience and spirit is a connection to great health care and always feeling comfortable contacting his primary care doctor at the first sign of any possible medical problem.
"I have so much trust in UC Davis Health," said Mendoza. "I've never had any doubts. Through all my illnesses, I've also learned to focus on letting fear go and being grateful. It's a change in perception. And it has served me very well."