Molecular imaging scientist recognized as one of the top biomedical engineers in U.S.
(SACRAMENTO)
UC Davis professor of biomedical engineering and hematology/oncology Julie Sutcliffe has been elected to the American Institute for Medical and Biological Engineering (AIMBE) College of Fellows.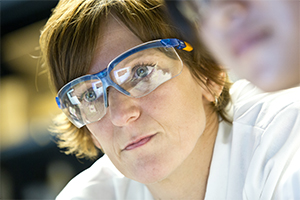 Sutcliffe was elected by members of the College of Fellows for her outstanding leadership in molecular imaging and translational sciences, and for leading technology from the bench to the clinic.
"I'm deeply grateful to the College of Fellows for the recognition and to be welcomed into such a distinguished class of peers," said Sutcliffe. "I would like to thank my UC Davis colleague Alyssa Panitch, professor of biomedical engineering, for her kind nomination. "
Sutcliffe is the leader of a multidisciplinary translational research team that is recognized nationally for its contributions to the field of molecular imaging. She is the principal investigator of three active clinical trials, the principal investigator of the UC Davis U01 Pancreatic Cancer Detection Consortium and the leader of the UC Davis Lustgarten Foundation and StandupToCancer Pancreatic Cancer Collective Research team. She is the immediate past-president of the World Molecular Imaging Society.
The College of Fellows is comprised of the top 2% of medical and biological engineers in the country and are regularly recognized for their contributions in teaching, research, and innovation.
A formal induction ceremony will be held during the AIMBE Virtual Annual Event on March 26. Sutcliffe will be inducted along with 174 colleagues who make up the AIMBE Fellow Class of 2021.
About AIMBE
AIMBE's mission is to recognize excellence in, and advocate for, the fields of medical and biological engineering in order to advance society. Since 1991, AIMBE's College of Fellows has led the way for technological growth and advancement in the fields of medical and biological engineering. AIMBE Fellows have helped revolutionize medicine and related fields to enhance and extend the lives of people all over the world. They have successfully advocated for public policies that have enabled researchers and business-makers to further the interests of engineers, teachers, scientists, clinical practitioners and ultimately, patients.
UC Davis Comprehensive Cancer Center
UC Davis Comprehensive Cancer Center is the only National Cancer Institute-designated center serving the Central Valley and inland Northern California, a region of more than 6 million people. Its specialists provide compassionate, comprehensive care for more than 10,000 adults and children every year, and access to more than 150 clinical trials at any given time. Its innovative research program engages more than 280 scientists at UC Davis who work collaboratively to advance discovery of new tools to diagnose and treat cancer. Patients have access to leading-edge care, including immunotherapy and other targeted treatments. Its Community Outreach and Education program addresses disparities in cancer outcomes across diverse populations, and the Center provides comprehensive education and workforce development programs for the next generation of clinicians and scientists. Through the Cancer Care Network, UC Davis partners with hospitals and clinical centers throughout the Central Valley and Northern California communities to offer patients expert care close to home. For more information, visit cancer.ucdavis.edu.