UC Davis Eye Center physician leader awarded for history of innovative research
(SACRAMENTO)
Paul A. Sieving, renowned director of the National Eye Institute who joined the UC Davis Eye Center faculty in 2019, has received the 2020 Visionary Award from the Glaucoma Research Foundation. He was honored at the Glaucoma 360 Annual Gala Feb. 6 in San Francisco.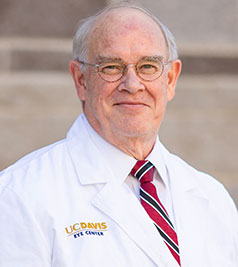 Sieving was recognized for his exceptional leadership and development of new treatments for inherited eye diseases. At NEI, he conducted the first human trial of a treatment for retinitis pigmentosa. RP is a degenerative disease of the retina, the part of the eye that receives light. His lab at the National Institutes of Health also developed and is testing a human gene therapy for X-linked retinoschisis, a rare disorder that begins in childhood and occurs almost exclusively in males.
As NEI director, Sieving also spearheaded the Audacious Goals Initiative in Regenerative Medicine, which is pushing the boundaries of vision science. The goals are to replace cells of the retina that have been damaged by disease or injury and to restore their connections to the visual centers of the brain. The effort has placed the eye institute in a leadership role for gene therapy and the use of induced pluripotent stem cells for tissue repair and replacement.
Sieving's research and audacious goals initiative have launched a wave of innovation in the diagnosis and treatment of eye diseases that will guide physicians and scientists across the U.S. for years to come.
At UC Davis, Sieving will continue his focus on finding the genetic causes of eye disease and developing fundamental approaches to repairing injured cells and tissues.
Sieving is an elected member of the U.S. National Academy of Medicine and the German National Academy of Sciences, and has published more than 260 journal articles and book chapters.