UC Davis Health offers game changing treatment for some liver tumors
Innovative treatment now available for patients who may not qualify for surgery
(SACRAMENTO)
A unique surgical procedure can help liver cancer patients who might not otherwise be eligible for surgery.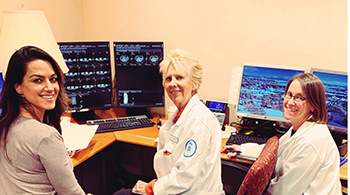 The treatment called hepatic artery infusion chemotherapy (HAI) is offered at UC Davis Medical Center by UC Davis Health surgeon and cancer researcher Sepideh Gholami. She has UC Davis Health's first two patients for the treatment scheduled.
This treatment involves Gholami placing a small pump under the patient's skin that will deliver chemotherapy directly to the liver through a catheter, feeding the main artery to the liver. May Cho, an assistant professor of hematology and oncology, will oversee the chemotherapy treatments.
"This treatment can be a great option for patients who usually don't qualify for surgery and truly improve their outcomes," Gholami said. "We want providers and patients to know this treatment is now available here. We want people to know we can help them."
With the targeted chemotherapy, some tumors have a dramatic response and shrink so a patient could potentially qualify for surgery. It also doesn't have most of the side effects of systemic chemotherapy and can greatly increase their chance of survival."
The treatment was pioneered at the Memorial Sloan Kettering Cancer Center in New York, where Gholami and nurse Deborah Small spent time in January training with Nancy Kemeny, a medical oncologist with expertise in HAI. Currently, it is used for patients with colorectal cancer that has spread to their liver and for bile duct cancers.
UC Davis Medical Center is one of the few hospitals on the West Coast, and the only one in Northern California, that offers the surgery.
"It's a big team effort and requires multidisciplinary care," Gholami said. "We are able to offer HAI here because we have the experts and a collaborative work environment. It's a complex treatment plan and it's the kind of care that shows why UC Davis is so special."