UC Davis Health wins EMMY® Award for coverage of system's renowned health care
Nationally ranked hospital's public affairs team honored with prestigious award for video storytelling
(SACRAMENTO)
Members of the UC Davis Health Public Affairs and Marketing Department are part of teams that won Northern California Area EMMY® Awards from The National Academy of Television Arts and Sciences. The prestigious awards are presented for outstanding achievement in television. They were announced during a virtual ceremony June 5.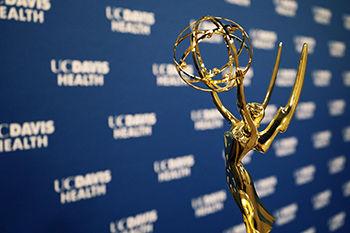 UC Davis Health won in the Health/Medical Long-Form Content category for its 16-minute video chronicling a complicated surgery to separate conjoined twins Abigail and Micaela at UC Davis Children's Hospital. Originally produced as a multi-part series, the videos together have been viewed nearly 6.5 million times on YouTube.
"Most of all, we want to thank the twins and their family. Telling their story was our privilege. We dedicate this award to them."
— Pamela Wu
The UC Davis Health team was also involved with the group winning an EMMY® Award in the Human Interest-Long Form content category. That recognition was for a story developed in partnership with Sacramento PBS station KVIE called "Viewfinder: Life After Sight."
The win for the conjoined twins stories went to Director of News and Information, Pamela Wu, who produced and reported the series, UC Davis Health videographer Christopher Nelson, who filmed and edited the stories, and videographer Hal Sloane, who also filmed key moments.
"We want to thank the surgical team members and hospital leaders at UC Davis Health, who gave us access to shoot video, even though they didn't know if the separation would be a success," said Wu in her video acceptance speech. "Their confidence and trust made it possible for us to tell the story of Abigail and Micaela."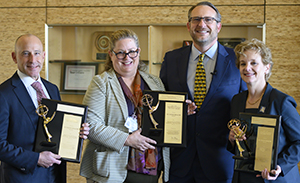 (left to right, David Lubarsky, UC Davis Health CEO, Nanette Joyce, director, Multidisciplinary ALS Clinic, David Lowe, KVIE president and CEO, Allison Brashear, dean, UC Davis School of Medicine)

UC Davis Health also received a commemorative EMMY® Award in 2019, for a story developed with KVIE, "Beyond the Ice Bucket Challenge." The report focused on awareness of ALS, a progressive, neurodegenerative illness sometimes called Lou Gehrig's Disease.
Nelson and Sloane donned scrubs and filmed the difficult, 24-hour separation surgery, as well as other important milestones.
"This is by far the largest and most challenging project that I've ever worked on in my career," noted Nelson. "We were there from the day they were born, through planning meetings and run-throughs, two surgeries, and all the way to the day they went home right before their first birthday. I'm so thankful that parents Liliya and Anatoliy trusted us to tell their story and I hope we can catch up with them to see how the girls have grown."
UC Davis Health competed against other television stations and news teams from around California, Nevada and Hawaii for the awards.
"This is a major achievement for our public affairs team," said Steve Telliano, assistant vice chancellor of strategic communications. "We have a talented group of communicators and storytellers here at UC Davis Health and we are proud to receive this recognition. These are just a few of the major awards this team has won over the last year."
At the center of these stories are UC Davis Health's patients, a point that Wu also made in her acceptance speech.
"Most of all, we want to thank the twins and their family. Telling their story was our privilege. We dedicate this award to them."

This video is best viewed in Chrome, Firefox or Safari.