CMN partner Emigh Ace Hardware recognized as top fundraising store in the nation
(SACRAMENTO)
Sacramento-based Emigh Ace Hardware took the top spot in the U.S. during the annual Bucket Days promotion at Ace Hardware. For a $5 donation, customers received a limited-edition, five-gallon bucket and 20% off almost everything that fit inside. From Aug. 6-8, 2021, 900 buckets were purchased at Emigh Ace Hardware, totaling $4,500 for UC Davis Children's Hospital.
The annual fundraiser benefits 170 Children's Miracle Network Hospitals (CMN) across the U.S. and Canada. UC Davis Children's Hospital is the area's only CMN Hospital, so all funds raised locally stay local. They help treat sick and injured children in 33 counties like Alfredo Moran-Arias.
Born premature at 27 weeks, Alfredo was diagnosed with necrotizing enterocolitis (NEC) while in the UC Davis Neonatal Intensive Care Unit (NICU). He's been in and out of UC Davis Children's Hospital ever since, and was back in the Children's Surgery Center for a procedure as recently as this month. With funds raised by Ace Hardware and other CMN partners, Moran-Arias and kids like him have an opportunity to get the care they need.
Ace Hardware has been a CMN partner for more than 20 years. The majority of the 5,000 stores across the network are independently owned and operated by local entrepreneurs. They're staffed by hardworking members of the community, as is the case with Emigh Ace Hardware. Not only were they the No. 1 fundraising store, the team created a campaign theme to generate more "buzz."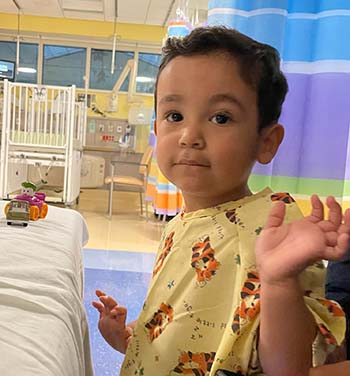 "Locations like Emigh prove that Ace is not only the helpful place, it's the caring place, too," assistant director of CMN at UC Davis, Michelle Thompson, said. "This store has proven time and time again that giving back to local kids is a priority. Plus, they pull out the creative stops to make the campaign fun for employees and customers alike. I am so thrilled to see them get the recognition they deserve and celebrate this accomplishment! We are so grateful for Emigh Ace Hardware's continued efforts to support our pediatric patients."
Another of Ace Hardware's CMN fundraisers is underway now through Dec. 24. It's the Holiday Round Up for Kids campaign. Round up purchases to the nearest dollar during check out at local Ace Hardware stores, including Emigh Ace Hardware. Funds raised locally will be donated to UC Davis Children's Hospital to help sick and injured kids in the community.
UC Davis Children's Hospital is the Sacramento region's only nationally ranked, comprehensive hospital providing care for infants, children, adolescents and young adults with primary, subspecialty and critical care. It includes the Central Valley's only pediatric emergency department and level I pediatric trauma center, which offers the highest level of care for its critically ill patients, as well as a level I children's surgery center. The 129-bed children's hospital includes the state-of-the-art 49-bed neonatal and 24-bed pediatric intensive care and pediatric cardiac intensive care units. For more information, visit children.ucdavis.edu.