Join the St. Baldrick's virtual shave party!
(SACRAMENTO)
A fierce competition is underway at UC Davis Health to see who can raise the most money to fight childhood cancer. Additional challengers are encouraged to register before the virtual St. Baldrick's "shave off" happens on March 25 at noon.
So far, the winners appear to be pediatric cancer patients because, together, the UC Davis Health teams have raised more than $20,000 for St. Baldrick's Foundation. The volunteer-powered charity funds more childhood cancer research grants than any organization except the federal government.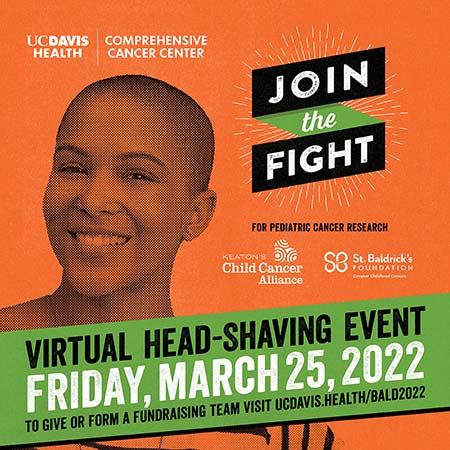 UC Davis Comprehensive Cancer Center partners with Keaton's Child Cancer Alliance each year to bring the St. Baldrick's event to the Sacramento region. Typically, it is held on St. Patrick's Day at the cancer center's auditorium but, once again, due to COVID-19, the event is being held virtually.
Shavees seek financial pledges as they promise to go bald. UC Davis teams will videotape themselves during "shave offs" and the videos will be uploaded to the St. Baldrick's event site in preparation for the virtual shave party March 25 at noon.
The top team currently is No Hair, Don't Care, a group of health care providers at UC Davis Medical Center who work with children every day, including pediatric cancer patients. So far, the team has raised more than $18,000 out of a goal of $40,000.
Every two minutes a family is given the devastating blow that their child has cancer. Just six years ago, two in five children with cancer did not survive. That number has now dropped to one in five, thanks to advances in childhood cancer research.
Start a team, join one or donate!
Go to the UC Davis Comprehensive Cancer Center registration site to support your favorite St. Baldrick's shavees or start your own team. To find out more, contact Chris Joyce at cjoyce@ucdavis.edu.
UC Davis Comprehensive Cancer Center
UC Davis Comprehensive Cancer Center is the only National Cancer Institute-designated center serving the Central Valley and inland Northern California, a region of more than 6 million people. Its specialists provide compassionate, comprehensive care for more than 100,000 adults and children every year and access to more than 200 active clinical trials at any given time. Its innovative research program engages more than 240 scientists at UC Davis who work collaboratively to advance discovery of new tools to diagnose and treat cancer. Patients have access to leading-edge care, including immunotherapy and other targeted treatments. Its Office of Community Outreach and Engagement addresses disparities in cancer outcomes across diverse populations, and the cancer center provides comprehensive education and workforce development programs for the next generation of clinicians and scientists. For more information, visit cancer.ucdavis.edu.