Annual CMN Miracle Balloon campaign at DQ raises money for UC Davis Children's Hospital
(SACRAMENTO)
July in Northern California often means record temperatures and the desire to go somewhere cool. Enter local Dairy Queen restaurants. 11 area locations are once again offering customers a chance to do something cool: help sick and injured children like Avery who nearly drowned but received lifesaving care at UC Davis Children's Hospital.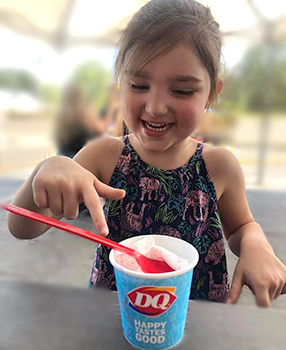 Now through July 31, you can help DQ continue to make a huge impact in the local community by donating to CMN at UC Davis through the purchase of a Children's Miracle Network (CMN) Miracle Balloon. Every dollar raised stays local to help UC Davis Children's Hospital provide world-class care for pediatric patients in 33 local counties.
DQ has been a CMN partner since 1984, raising more than $159 million for local children's hospitals across North America. Northern California customers can add to that total by purchasing a Miracle Balloon at participating locations in the following cities: Truckee, Roseville (Douglas Boulevard), Citrus Heights, Orangevale, Sacramento (Arden Way, Fruitridge Road), Stockton, Manteca, Vacaville, Yuba City and Redding.
UC Davis Children's Hospital is the Sacramento region's only nationally ranked, comprehensive hospital providing care for infants, children, adolescents and young adults with primary, subspecialty and critical care. It includes the Central Valley's only pediatric emergency department and level I pediatric trauma center, which offers the highest level of care for its critically ill patients, as well as a level I children's surgery center. The 129-bed children's hospital includes the state-of-the-art 49-bed neonatal and 24-bed pediatric intensive care and pediatric cardiac intensive care units. For more information, visit children.ucdavis.edu.