During the COVID-19 pandemic, mothers can still safely breastfeed with appropriate precautions
(SACRAMENTO)
Mothers with confirmed or suspected COVID-19 can safely breastfeed with appropriate precautions and the benefits of breastfeeding outweigh potential risks, according to a review article published in the American Journal of Perinatology.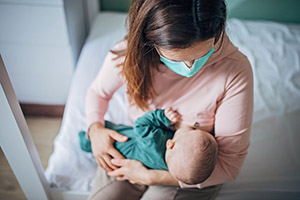 The article, published July 21, provides guidance to clinicians and families about breastfeeding during the coronavirus pandemic.
"The benefits of breast milk have been well documented, but this current pandemic may cause mothers to limit breastfeeding efforts to protect their babies. This article reminds care providers and mothers, even those with confirmed or suspected COVID-19 infections, that it's still an important time to continue to breastfeed," said Ritu Cheema, first author of the article and health sciences clinical assistant professor in the UC Davis Division of Pediatric Infectious Diseases.
Some of the article's key points:
There are very few case reports of COVID-19 being transmitted from a mother to her fetus or newborn. This appears to be a rare event.
No compelling evidence suggests the transmission of COVID-19 from mother to baby via breast milk.
Mother-baby separation has negative health and emotional consequences for both mother and baby.
Maintaining appropriate respiratory hygiene when in contact with the newborn baby is critical.
There may be an additional benefit of providing breast milk from a mother with COVID-19 to her baby for specific protection against COVID-19, assuming appropriate hygiene practices are followed.
Based on this information, mothers with suspected or confirmed COVID-19 infections can and should breastfeed their newborns with appropriate precautions. Mothers should wear a surgical mask and wash their hands and breasts with soap and water before breastfeeding. During intervals between feeds, it is recommended that the infant's crib be placed at least six feet from the mother's bed, preferably behind a physical barrier such as a curtain.
These precautions should be continued until the confirmed COVID-19 positive mother demonstrates an improvement in her symptoms for at least 24 hours without the use of fever-reducing medications, and at least 10 days have passed since she had a fever and her COVID-19 symptoms appeared (or at least 20 days have passed if she had severe illness or is severely immunocompromised as the Centers for Disease Control and Prevention currently recommends).
In an unfortunate scenario where the mother is very sick and cannot directly breastfeed, every effort should be made to feed the baby the expressed breast milk from her if possible. A healthy family member or nurse can feed the baby the expressed milk in a separate room. Breast pump tubing and container should be cleaned after every use and mother should have a dedicated breast pump. Strict hand hygiene must be followed.
"Any mother with a suspected or confirmed COVID-19 infection should not hesitate to breastfeed if she can do it safely and if her health allows," Cheema said. "Given the potential risk of transmission of infection from anyone infected around the baby, the importance of observing appropriate precautions while handling the baby cannot be overemphasized at the same time."
Co-authors of this article are Elizabeth Partridge, Laura Kair, Kara Kuhn-Riordon, Angelique Silva, Caroline Chantry, Mark Underwood, Satyan Lakshminrusimha and Dean Blumberg of UC Davis Health, and Maria Bettinelli of the University of Milan.