Correcting bad info and common mistakes as we move forward in the fight against COVID-19
Infectious disease experts clear up some of the dangerous myths about the pandemic
(SACRAMENTO)
The COVID-19 landscape continues to change rapidly with vaccine rollouts battling new surges and variants. Meanwhile, scientific knowledge about the coronavirus and its dangers has grown and evolved faster than ever in medical history.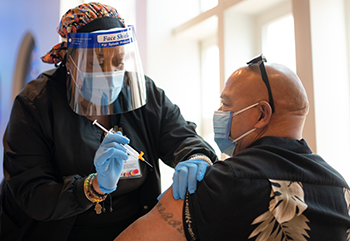 So, there is a lot of bad information and hackneyed myths confusing some people, even those paying close attention. That's why UC Davis Health infectious disease experts are offering this guide to clear away the clutter and help you stay safe as we move forward.
Anyone age 16 and older can get a vaccine from UC Davis Health. Here's what you should know about scheduling your appointment
There's real reason for optimism but the COVID-19 war is not over yet
"I know it's tempting to relax your precautions," said Natascha Tuznik, a UC Davis Health assistant clinical professor of infectious diseases. "People are getting vaccinated and it looks like we could be turning the corner. But thousands of people are still getting sick and thousands of people are still dying."
There are also reasons to be alarmed about the race between vaccines and COVID-19.
New surges of COVID-19 are sweeping through Europe, and major cities are ordering new lockdowns.
Spring break exploded without cautions in some regions and spring holiday gatherings are approaching.
Coronavirus variants are becoming dominant and are highly contagious.
Many people have stopped being cautious.
"A lot of restrictions are being loosened, but that doesn't equate to no danger," Tuznik said. "We know that masking and social distancing work. We urge people to stay with it a little longer. Do you want to lose all the progress we've made? Do you want to lose someone you love?"
The approved vaccines are all very safe, no matter what social media says
"They've been scientifically proven to be safe," Tuznik said. "They all went through careful, thorough studies. And now we have real world evidence that shows the same thing.
"Restrictions are being loosened, but that doesn't equate to no danger. We know that masking and social distancing work. We urge people to stay with it a little longer. Do you want to lose all the progress we've made? Do you want to lose someone you love?"
— Natascha Tuznik
Nearly 90 million people have gotten at least one dose, according to the Centers for Disease Control and Prevention (CDC) tracker, and there have been extraordinarily few reports of any serious reactions or problems. (The Pfizer and Moderna vaccines require two doses for full immunity, Johnson & Johnson's needs just one.)
Don't worry about which vaccine you get
"The difference in effectiveness between the Pfizer and Moderna vaccines and the Johnson & Johnson vaccine in the studies are an apples-to-oranges comparison," said Dean Blumberg, chief of pediatric infectious diseases at UC Davis Children's Hospital. "The studies were done under different conditions and they are all highly effective and almost totally effective in protecting you against serious illness or death."
Public health officials have said the single dose Johnson & Johnson vaccine might be easiest to administer to hard-to-reach or mobile populations, such as migrant workers or the homeless – for the obvious reason that people need to be reached just once.
"That does not mean one vaccine is better than another," Blumberg said. "If it were me, I would take the first vaccine offered, whichever it was."
Read more about the vaccines from UC Davis Health experts.
Understandable mistake: Not talking about the COVID-19 vaccine with your family and friends
"It can be a hard conversation to have if a family member or close friend is uncomfortable with a vaccine," Tuznik said. "That's how we show our love, by hearing them out, listening for the cause of their concern and gently offering them real science."
The CDC recently issued guidance, saying that "COVID-19 vaccines are new, and it's normal to for people to have questions about them. The sheer amount of information – and misinformation – about COVID-19 vaccines can be overwhelming to anyone. Their suggestions for "How to talk about COVID-19 vaccines with friends and family" include:
Listen to their questions with empathy
Ask open-ended questions to explore their concerns
Ask permission to share information
Help them find their own reason to get vaccinated
Help make their vaccination happen
What you need to know when you get the vaccine.
Young and healthy people need a COVID-19 vaccine and should take caution as much as anyone
"Some younger adults talk about being more resistant to COVID-19, and that is partially true, but just partially," Tuznik said. "They can still get sick and they can still be hospitalized or die. And they can get their families sick."
And younger adults appear to be more in danger of developing long-haul COVID-19, with symptoms ranging from fatigue and body aches to headaches and brain fog lasting for months.
"I'm hoping that COVID-19 will, in the long run, be similar to things like seasonal influenza and other viruses where there's always a risk of getting infected in public, but a low enough risk that we can go about our everyday activities."
— Dean Blumberg
A study published in February found that almost 30 percent of adults between 18 and 39 who got COVID-19 developed long-haul symptoms.
"In many cases, those younger people only had mild cases, yet many of them are still sick months later," Tuznik said.
Exercise and being physically fit can help boost your immune system, but despite the social media posts of some athletes touting their fitness as a defense against the coronavirus, it does not help you produce the antibodies to fight off COVID-19.
"No matter how buff you are, you still need a vaccine as much as anyone else," Tuznik said.
It really is better to double mask – and the surgical mask goes underneath
The CDC recently issued guidelines that say the best way to protect yourself from COVID-19 – along with social distancing – is to wear either two masks, with the cloth mask outside a surgical mask, or one tightly fitted mask with two or more layers.
"We understand that this can seem like a lot of effort and one more thing to get right," Tuznik said. "But if you're around a lot of people and you can double mask, you will give yourself, and them, more protection.
For your mask to fit correctly, you need to be able to breathe though it
"If you give a big inhale and exhale, you want to see your mask moving in and out," Tuznik said. "That means you're breathing through your filters. If nothing moves, that's bad. That means the air is moving through gaps in the sides and you're not protected."
This is one concern about double masking: You can defeat the masks by making them too thick.
"If it's hard for you to breathe through your mask, the air will find the openings where there is no filter," Tuznik said. "That's where the virus can get in."
There is little protection if your mask doesn't cover your nose. Coaches, take note
"We still see too much of this," Tuznik said. "Especially if you're watching sports. Coaches should know better. They are supposed to set an example, plus it just isn't the best look."
Read more about masks from UC Davis Health experts
Floor fans are still dangerous. Gym and restaurant managers, take note
"This seems to be a mistake that's most common at gyms," Tuznik said. "Stay away from the big floor fans that blow air across a room. They create a focused blast that pushes air and the virus a long way. A number of studies show you can get infected at a good distance because of those."
Some restaurants are getting this wrong in their outdoor dining areas, too.
"Air flow is good, that's why outdoor activities are safer," she said. "But those fans are bad news. When you see one, go somewhere else."
UC Davis experts detail other common mistakes about COVID-19
Immunity from COVID-19 vaccines is safer than natural immunity
"If you had COVID-19, you still need a vaccine," Blumberg said.
The immune response from the vaccines appears to be more robust and longer lasting than the immune response after the disease.
"We need people to get vaccinated to get to herd immunity," Blumberg said. "If we waited until we reached that naturally, society would be shut down much longer, millions of people would die and many millions more would suffer, possibly with permanent damage to their health."
Outdoor dining is still safer than eating indoors
"Not enough has changed yet to be truly safe indoors. If you can be outside, that's so much better," Tuznik said. "When we eat, we're not wearing masks, we're drinking and laughing and talking loud. All of that spreads the virus to a much greater extent. If you're outside, the air flow helps dilute that virus."
COVID-19 won't disappear
The likelihood of achieving complete herd immunity and stamping out COVID-19 is not great – because of the difficulties of deploying vaccines around the globe and because some groups are choosing not to get vaccinated.
"I'm hoping that COVID-19 will, in the long run, be similar to things like seasonal influenza and other viruses where there's always a risk of getting infected in public, but a low enough risk that we can go about our everyday activities," Blumberg said. "I'm ultimately hoping that we will be able to go back to the kind of large gatherings that we used to experience, but it will take some time still."
Anyone age 16 and older can get a vaccine from UC Davis Health. Learn how to schedule your appointment