COVID-19 and flu season are about to merge – and doctors are worried
More than ever, everyone needs to get a flu shot this season, and now is the time
(SACRAMENTO)
Two things are certain about the flu season knocking at our door during the COVID-19 pandemic: First, it's never been more important to get your flu shot. Next, no one knows how this influenza season will play out.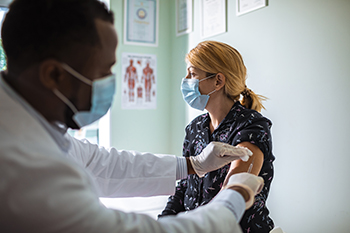 The uncertainty covers almost every aspect of the flu – how dangerous this year's strain will be, how contagious it will be, how the flu will interact with COVID-19, and what might happen if a person gets both the flu and COVID-19.
"It's all too unpredictable," said Dean Blumberg, chief of pediatric infectious diseases at UC Davis Children's Hospital. "We have nothing to compare to this year. The SARS-CoV-2 virus is just too new to know how it will react with an influenza virus."
Add to that, no one is sure when the flu will hit or peak – as always.
"Trying to time flu season is a little like betting on the stock market," Blumberg said. "No one really knows. That's why it's so important to get your influenza vaccine."
But there is some hopeful news. The precautions most people are taking to prevent COVID-19 transmissions – wearing masks, the 6-foot distancing, avoiding large gatherings – are the same measures that will reduce the spread of the flu.
"If people keep wearing masks and distancing, this might turn out to be a mild season," Blumberg said.
There is also a frightening side.
"If we have even a moderate flu season, that could be dangerous," said Daniel Colby, a UC Davis Health assistant professor of emergency medicine and one of the clinical operations leaders in the Department of Emergency Medicine.
"Our hospital can handle it," Colby said. "We're experts at treating and controlling infectious diseases. And now we have over six months experience with COVID-19. But our region's ICUs could still get filled up. The worry is that some hospitals will get swamped, especially in regions and countries that have less than adequate health care systems."
COVID-19 and the flu: What we know
"We're entering unchartered territory (with COVID-19 and flu season). We have not been through anything like this. There is so much we don't know."
— Dean Blumberg
When to get your flu shot? Now: "It takes about two weeks after you get the shot for the immunity to build up," Blumberg said. "So, get vaccinated as soon as you can."

September and October are the target months. "The immunity lasts five-to-six months, and the flu usually peaks by February in a normal season," he said.
They are different viruses: "The antivirals we use to treat influenza don't work against COVID," Blumberg said. "The flu vaccine is not likely to have any benefit against the coronavirus, except that it will help keep people healthier."
Young children are at risk for flu: Children under age 2 and infants are in the highest risk group. They should get a flu shot at 6 months old and up. "This is another difference from COVID-19," he said.
Treatment is different: "If you think you might have the flu, call your doctor right away," Blumberg said. "Anti-viral treatment in the first 24 to 48 hours of symptoms might lead to more rapid recovery. After that 48 hours, there is no clinical benefit of anti-viral treatment, so don't wait to call your doctor."
They have similar symptoms: The Centers for Disease Control and Prevention (CDC) list mostly the same symptoms for both. Those include fever, cough, shortness of breath, fatigue, sore throat, runny nose, body aches and some vomiting and diarrhea. One difference is a fairly common loss of smell or taste with COVID-19.
They generally start differently: "Influenza usually comes on suddenly," Blumberg said. "You were feeling well until at 2 p.m. on Wednesday, and then suddenly at 2:01 you're sick."

The flu often starts with a fever and muscle aches, then respiratory problems come next. Children often have gastrointestinal issues. COVID-19 more often comes on gradually, and early symptoms can vary.

"We've learned that COVID-19 can fool us a little more," Colby said. "Patients can present with a range of symptoms. Some patients come in with just nausea, vomiting and abdominal pain. That fooled some providers early on."
COVID-19 and the flu are transmitted at different stages of the illness: "With influenza, it's felt that people are most infectious once they have symptoms," Blumberg said. "With COVID-19, the CDC reports that more than 50% of transmissions are from people who are either asymptomatic or presymptomatic."
People are much less likely to be asymptomatic with the flu: "The research estimates that 40% of people with COVID are asymptomatic," Blumberg said. "With the flu, it is much lower."
UC Davis Health is now offering flu shots: All medical group clinics are now providing flu vaccines by appointment or for walk-ins, and the clinics in Elk Grove, Folsom, Davis, Roseville, and Sacramento will soon offer drive-through flu shots by appointment only. More information is on the UC Davis Health flu webpage.
COVID-19 and the flu: What we don't know
"We're entering unchartered territory," Blumberg said. "We have not been through anything like this. There is so much we don't know." That includes:
"If we have even a moderate flu season, that could be dangerous."
— Daniel Colby
Does COVID-19 make you more likely to get the flu?
Does the flu make you more vulnerable to catching COVID-19?
What happens to patients who contract both COVID-19 and the flu?
How severe will this flu season be?
"There are so many unknowns because we haven't done this before," Blumberg said. "We aren't even certain about this year's strain of flu. The wild card every year with the flu is that it always mutates, at least a little."
One potential source for information was the Southern Hemisphere, which just went through winter and flu season during the COVID-19 pandemic, but reliable data was scarce, he said.
"New Zealand did a wonderful job of stopping transmissions and Australia had a few hotspots, but was in pretty good shape," Blumberg said. "Countries in Africa, where they suffered large numbers of cases, don't have the public health infrastructure for high-quality reporting. We just don't know what to expect."
UC Davis Health is solidly prepared for the flu season – in part because of COVID-19
"In many ways, we're better prepared now than in other years," Colby said. "We've already ramped up personal protective equipment, isolation practices, tests kits and everything we need. We're extremely practiced at making sure that everyone is isolated and protected as much as possible from influenza as well as COVID-19."
As a Level 1 trauma center, the UC Davis Medical Center emergency department has years of experience with the flu and other infectious diseases. And since the COVID-19 outbreak, they've expanded their capacity to keep patients isolated if they come in with symptoms that might be COVID-19 or the flu.
"The initial triage and evaluation process will be the same for patients of either COVID-19 or the flu," Colby said. "We've been doing rapid influenza testing for years. It comes back in less than an hour. We'll complement that with our best-in-class COVID testing that takes about the same amount of time."
And because of the all the uncertainty with the flu this season, patients who come to the emergency department for some other issue will also get a flu shot.
"That's very unusual for any ED, but we want to do whatever we can to prevent someone in our community from getting both the flu and COVID," he said. "Patients shouldn't come to the emergency department just for a flu shot. You go to a flu shot clinic or your primary care doctor for that. But if someone is here because they broke their leg or is sick, we'll make sure they get their flu vaccination, too."
Colby also echoed what health care providers have been saying since the start of the pandemic – don't be afraid to go to your primary care doctor or the hospital if you need care, and that includes having the flu.
"We are on the front lines for trauma and infectious diseases and general health care for our community," Colby said. "We've gained as much experience as we can from COVID-19. We know how to make sure our patients don't get COVID-19 or the flu or anything else when they come in. If you need care, we are here for you."