Get your flu shot now from UC Davis Health—it's never been more important
(SACRAMENTO)
Flu season is coming, but there is some good news: In a year with the COVID-19 pandemic, historic wildfires, social restrictions and more, this is something each of us can control – by simply getting a flu shot.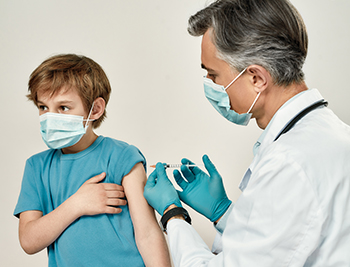 "With COVID-19, some people aren't thinking about the flu," said Tom Bullen, Associate Medical Director of UC Davis Health Community Physicians. "But a lot of people die because of it. Every year, 40 to 60 million Americans get the flu and 12,000 to 61,000 of them die. Now, while we're fighting the coronavirus, it is even more dangerous."
UC Davis Health is already offering flu shots, and this year, the effort is expanding. Along with added resources and making flu vaccines available at all of its primary care clinics, flu shot drive-through sites will be coming soon to UC Davis Health clinics throughout the region.
"We want to make it as easy and convenient as possible to get your shot," Bullen said. "This year, that's more important than ever. If you get both COVID-19 and the flu together, or one after the other, it's likely you're going to have real trouble."
The risk is high for many people, especially children
A flu vaccine is especially important for people with a higher risk of complications. That includes people over age 50, anyone with a chronic illness, including obesity and diabetes, pregnant women and the very young. Children age 6 months and up should get a flu shot. Infants will require two shots at least four weeks apart for full immunity.
"Children under age 2 and infants are at the highest risk," he said. "That's different from COVID-19. If you're a caregiver to an infant under 6 months old, they can't get a flu shot yet, so it's extremely important that you get vaccinated."
Some people ignore flu shots because they're young and healthy, but that's a misread of how flu works.
"Children under age 2 and infants are at the highest risk. That's different from COVID-19. If you're a caregiver to an infant under 6 months old, they can't get a flu shot yet, so it's extremely important that you get vaccinated."
"No matter how healthy you are, if you get the flu, you get pretty sick," Bullen said. "And you can still spread it easily. Even if you think you'll do well with the flu, that doesn't mean your baby, your pregnant wife, your mother or father or cousin will do well. If nothing else, get your shot to protect others, including the people you love."
Flu shots won't give you the flu
Every season, different strains of the flu become prevalent, and they can mutate a little, which is another reason why everyone needs a flu shot every year. The shot both reduces your likelihood of getting sick at all by about 40-60% on average, and it will reduce the severity of your illness, if you do catch the flu.
"One other very important thing to remember is this: The vaccine does not give you the flu." Bullen said. "It will not make you sick."
Some people might be sore at the spot of the injection, but it doesn't last long. And a small percentage of people might develop a low fever or muscle soreness – but actually, those are signs the vaccine is working.
"This mean your immune system has turned on and it's getting ready to fight off the flu virus," he said. "Those are the signals that your body is developing the immune response to protect you."
The full immune response takes about two weeks to build up, which is why people should get their flu shots now. "That's why we're doing all we can to make it easy for people," Bullen said.
How and where to get your flu shot
If anyone wants a flu shot, they can start by calling their primary care provider to make an appointment, or by scheduling a vaccine visit on their MyUCDavisHealth app.
"It's always faster and easier if you make an appointment, and those are typically available that day or in a day or two," Bullen said. "This unique year, we especially encourage you to make an appointment. Besides saving time, it will help with our social distancing protocols."
But, he said, UC Davis Health first wants to make getting a shot as convenient as possible, so you can also walk in without an appointment and ask for a shot at any UC Davis Health primary care clinic.
"What's most important is that you get your flu vaccine," Bullen said. "There's never been a season in our lifetimes when every one of us needed a flu shot more than this year."
In addition, patients seeing a UC Davis Health provider for other reasons will be offered a flu shot right there. As with any medical appointment, people coming for a shot will be required to wear a mask.
Related stories:
COVID-19 and flu season are about to merge – and doctors are worried