Participants sought for COVID-19 vaccine trial for booster and variant protection
(SACRAMENTO)
UC Davis Health will soon begin to enroll participants for a clinical trial to determine the answers to questions being asked around the world regarding COVID-19 immunization.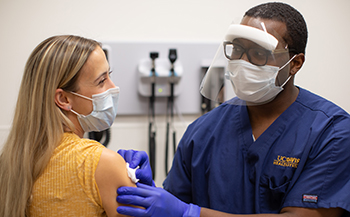 Does a combination of different vaccines or a booster shot help us make more antibodies against COVID-19? Does a modified version of an existing vaccine help us generate a more robust immune response against the new South African virus variant?
The study will require 40 volunteers from two specific groups:
Those who received the single-dose Johnson and Johnson/Janssen COVID-19 vaccine between March 27 and April 10.
Those who have yet to receive any COVID-19 vaccine.
Anyone interested in taking part in the clinical trial can find information on the UC Davis Health Clinical Studies site.