Q&A: Safety tips for Phase 3 openings from a UC Davis Health infectious disease expert
Do's and don'ts for gyms, bars, restaurants and more
(SACRAMENTO)
California is moving to Phase 3 of reopening on June 12. Natascha Tuznik, UC Davis Health assistant clinical professor of infectious diseases, answers questions and offers tips on how to stay safe and what to avoid.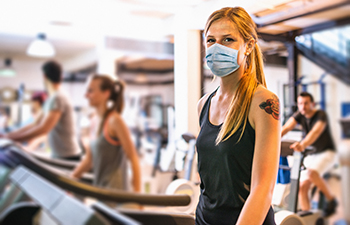 All her recommendations start with the primary warnings that have not changed: It is crucially important to physically distance, wear a mask, wash your hands regularly and avoid touching your face. And for all these places, be prepared to leave if it doesn't feel safe.
Q: Are gyms safe?
A: It's going to be a lot of work to go the gym. There are so many red flags. If you are a high-risk person, you need to think seriously about whether to go.
First thing, ask about their cleaning protocol. If they don't clean often, or don't know the answers, don't go.
Be sure they limit the number of people at one time. If they don't, that's another red flag.
Treat locker rooms and restroom like a gas station restroom. If you can avoid them, that's best.
No matter how conscientious they are, it's a very difficult place to stay totally safe. People are moving around, sweating, breathing hard and expelling more particles a greater distance. Be aware, there is a risk.
Q: If you do go to a gym, what tips do you have?
A: The obvious one is, keep your distance. Here, it is vitally important and you probably need more than six feet, whenever you can manage that.
On treadmills and aerobic equipment, every other one should be taped off. Definitely do not get on equipment directly in front of someone else exercising. If you can't be at least six feet or more, do another exercise.
Before you use anything, clean it. Spray, wait, wipe and repeat. You can't just spray stuff on and wipe it right off. Most cleaners need to stay on at least a minute. After using something, be polite and clean it for the next person.
Besides cleaning the equipment, sanitize or wash your hands before moving on.
If you are a heavy sweater, this is a good time to re-enact the '80s and wear a headband. It will keep sweat out of your eyes so you don't keep wiping your face.
Use two towels, one to wipe yourself and one to lay on equipment. It's safest to bring your own towels, though you might trust your gym's supply if you're confident that they wash them in hot water and handle them properly.
Stay on one piece of aerobic equipment rather than split time on, say, a treadmill, a bike and a climber.
Try to go when it will be slow, maybe later in the evening.
Q: What should we avoid in a gym?
A: Avoid anything with foam, like mats, rollers and yoga blocks. Foam is very hard to sanitize.
Be careful about water fountains. Bring your own bottle and water.
Stay away from fans – they're a focused blast that pushes air a long way. You could get infected at a good distance. Open windows and a good ventilation system are helpful because they diffuse a contaminant, but if your gym has all the fans going, don't go in.
Remember, a gym visit is a risk. Gym equipment is notoriously hard to clean. Also remember, all your precautions will slow you down.
Q: Restaurants now will likely get more traffic. What do you recommend?
A: If you have the option, go outside, and be sure the tables are six feet apart.
Ask to have just one server for your table. You don't want multiple hands from bussers, food runners and drink runners.
There is no evidence the virus is spread through food, so just go to places that you've always trusted for cleanliness.
Avoid salad bars, buffets, drink-filling stations or any spot that uses common utensils or dispensers.
I would avoid places that have fans, even outdoors. Just like gyms, that focused air blast can push the virus a long way.
Maybe keep on your sunglasses or reading glasses, if they're comfortable. That's an extra barrier for your eyes.
Can we stay safe at bars?
A. A bar is one of the riskier situations to put yourself in. Be prepared to leave if you need to.
A bar is one of the riskier situations to put yourself in. I don't know how bar managers can enforce the six-foot distancing all night.
The inherent difficulty is that you can't drink or eat with a mask on.
In theory, bars should limit the number of customers and space them apart. But people will be drinking and forget.
I don't know how bar managers can enforce the six-foot distancing all night. Even worse, how do they make sure people wear masks between sips.
Under the best of circumstances, bar restrooms can be a risk.
Even if you do everything right, the person next to you may not.
Q. What about breweries and wineries?
A. Brew pubs could have all the difficulties of a bar. If you go, try to go to ones that have an outside area and are safely spaced.
Wineries might be safer if they limit visitors, physically space the tastings and offer outside seating.
Q. Is there any way to be safe in a casino?
A. That is one of the riskiest places you can go. I don't have any safety recommendations for casinos other than avoiding them.
There will be a lot of people in a closed space, many not wearing masks. One person can infect many.
You'll be handling objects over and over – dice, handles, cards. There is no good way to sanitize cards and dice reliably between play.
We hear reports from casinos of people being lax about safety.
You also have bars and all their problems. Ask yourself, is it really worth the risk?
Q. The Sacramento Zoo is re-opening, as are others. What are the cautions?
A. They are outdoors and will limit visitors, so that is good. But physical distancing may be difficult.
Zoos are places for children and I don't know how you can ask a child under age 5 to keep a mask on in the heat of summer. Children also wander or run toward the animals. Distancing from them will be complicated.
Their bathrooms will be problematic, like all public restrooms, but they will be harder to avoid with kids.
Don't use their strollers. Bring your own.
Be careful about picnic areas unless you bring wipes and clean everything well.