UC Davis Hospice volunteers provide Thanksgiving meals for patients, patient families
(SACRAMENTO)
Each year, UC Davis Hospice staff volunteer to deliver 30 Thanksgiving meals to hospice patients and their families, a tradition continued yet again this year.
The volunteers work closely with the Raley's supermarket on Folsom Blvd. to receive the prepared meals – which include pumpkin pies donated by Raley's. The dinners are fully cooked at pick up and include enough turkey, mashed potatoes, stuffing, gravy, green beans, cranberry sauce and rolls to feed six to eight people.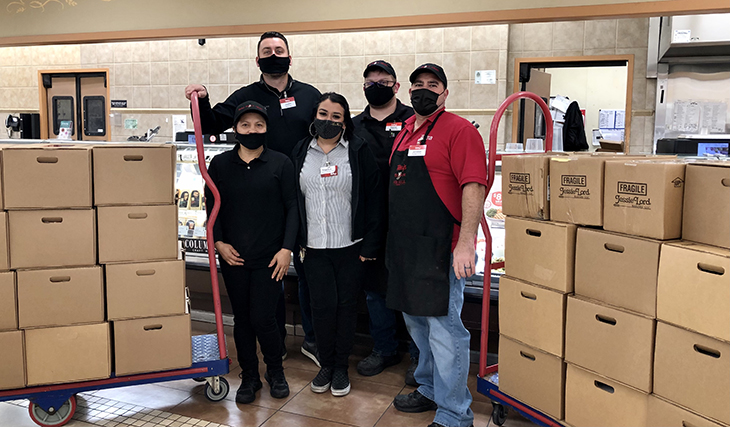 The complete meals are then delivered by volunteers from the hospice team to families who are nominated by staff.
"Providing Thanksgiving dinners to patients and their families is a great way to support their celebration of this holiday during a challenging time of life," Clinical Operations Manager Charlotte Norton said.
The staff have been participating in this tradition of giving back for 15 years now.
"It makes me feel good to be able to relieve our hospice families of one stressor so that they can just be a family," volunteer and retired UC Davis Hospice nurse Karen Merick said. "…the gift of these meals [is] my favorite time of the year."
This year, each hospice family also received handmade cards created by two students, Maila M. and Daphne L. from St. Francis High School, and Thanksgiving art kits created by the Arts of Medicine Club at UC Davis.
"It warms my heart to hear the stories shared by the staff and volunteers who deliver the dinners," home care administrator and registered nurse Stacey Magee said. "[There is] an abundance of gratitude from patients and their families for a nice meal to enjoy with loved ones during a challenging time."
Hospice volunteer coordinator Erin Bjork shared one family's response: "You brought us such joy today! I can't tell you how much we appreciate this kindness. We are so grateful to UC Davis Hospice."
Donations to the hospice memorial fund helped make the Thanksgiving meal deliveries possible.