Mindful Self-Compassion
8:30 to 11:30 a.m.
Facilities Support Services Building (FSSB), Room 2030
Course # DAHS-NGNMSC18
Capacity: 15

This 9-week class is held every Friday from April 3 through May 29 and includes a half-day retreat including lunch on May 8.

Course description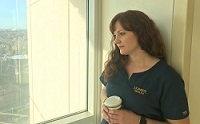 What you practice becomes stronger! What mental states are you practicing? Do this for you, do this for your patients, do this for your family, do this to be more of who you want to be in the world. Learn how this warm-hearted connected presence with your own experience can be a powerful foundation in daily life. Further develop therapeutic interpersonal skills using Mindful Self-Compassion when working with patients.
C.E. contact hours
Provider approved by the California Board of Registered Nursing, provider number CEP 26, for 28.0 contact hours.

Attendees will not receive C.E. credit if they are more than 20 minutes late; no partial credit can be awarded.
Registration
Please select a class date above and complete the registration form. If using a credit card, submit the registration form and phone in your credit card number to (916) 734-9790. If paying by check, please print the registration form, attach your check made payable to UC Regents dated for the date of the class, and mail to:
Center for Professional Practice of Nursing
4900 Broadway, Suite 1630
Sacramento, CA 95820
Registrations are confirmed only if deposit or fee is provided with registration form.
Community registrants
$380 registration fee (includes C.E. contact hours).
$150 registration fee (no C.E. contact hours).
Refund policy
Cancellation must be requested fourteen days prior to class to receive a full refund or deposit. A $50 service fee will be charged after this date. If the provider cancels the course a full refund will be provided.
Persons with disabilities
Individuals needing special accommodations may call the Center for Professional Practice of Nursing at (916) 734-9790.
Parking
Parking is available in parking lots 4, 12 and 17 with a UC Davis parking permit. A daily permit is available for purchase for $6 from the kiosks in lots 14 (2nd Ave. & 45th St.) and 18 (49th St. & V St.).