Reflecting on my Practice: Professional Development Exemplar Activity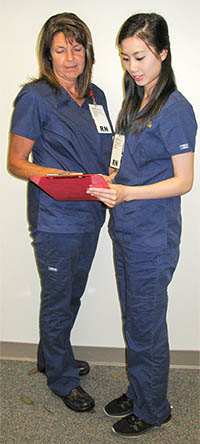 The Reflecting on my Practice: Professional Development Exemplar Activity is part of the RN Preceptor Development Program. The purpose of this activity is to enable a reflective nursing practice and capture real life preceptorship experiences in the form of exemplars at UC Davis Health. Capturing the essence of preceptorships from the perspectives of both preceptors and preceptees will enhance the current Preceptor Development Program. RN preceptees and preceptors may submit their experiences as exemplars.


Reflection-on-Action is a retrospective process of the thinking that occurs after an incident (preceptorship experience) to make sense of it and using process outcomes to influence future actions (Sherwood & Horton-Deutsch, 2012). This is an opportunity for you to write an exemplar based on your preceptorship experience.


Benefits:
Opportunity to reflect on your nursing practice
Share examples for others to learn from
Earn 3 C.E. credits
Independent study in the comfort of your own home
Note: Limit 2 submissions per RN per year (max of 6 C.E. credits per year).
Instructions
Please follow the steps below to complete and submit your exemplar.
After reviewing the article, use the reflective process to notate and narrate your preceptorship experience.

Use this Writing an Exemplar (PDF) to assist you in writing exemplars. You may use the examples below to guide you in completing the exemplar:
Review the requirements, then complete the form. UC Davis Login (Kerberos) required.
Requirements:
Word length between 750 to 1000 words
Avoid actual names of nurses, and patients and units- Use one letter in quotations "J"
All Required fields on form including:

Reason for completing exemplar
What title best describes you: Preceptor or Preceptee
Setting of Example: Unit
Main topic of exemplar- choose one that is most applicable (theoretical foundations, learning styles, struggling preceptee, multiple preceptors, communication, resource management, developing or changing a preceptorship plan, simulating critical thinking, preceptor roles, culture of safe, stress management, self-care, time management, prioritization, competency, patient outcomes)

Exemplar content outline

Introduction
Case Presentation
Management
Outcomes
Disclosure
The exemplar will be used as a case study for future Professional Development Programs
Your name will not be linked to exemplar when presenting case study
By submitting your exemplar to the Center for Professional Practice of Nursing (CPPN) you are providing consent to CPPN to utilize all components of exemplar for educational purposes